5 restaurants and 10 fast food outlets at Puy du Fou are equipped with Edikio Guest display labels to help visitors make their choice.
The challenge: Clearly and efficiently label 5 buffet restaurants and 10 fast food outlets at Puy du Fou that welcome thousands of visitors each year
Voted the number one theme park in the world, Puy du Fou and its 2.3 million visitors every year need no introduction. For nearly 45 years, Puy du Fou has "told its story and retold history" through its park and shows adapted to both young and old. 
Of course, the park offers a wide range of catering services to suit visitors' needs. There are 5 buffet restaurants in the park and the Cité Nocturne, each with its own atmosphere and theme:
L'Orangerie
La Table des Ambassadeurs
Le Banquet de Mérovée
Les Deux couronnes
L'Ecuyer tranchant
As well as a dozen fast food outlets. La Puyfolaise de restauration, the company managing these establishments, has the task of facilitating access to information about the products and dishes offered to visitors. With 200 to 400 covers at each service and about 30 different products per restaurant, buffet labeling is essential. It must be clear and legible for all visitors throughout Puy du Fou's opening season.
« We had laminated paper labels, made by a printing service. It was impossible to keep them for the 7 months of the season. They were getting damaged too fast. »
Jackie Quetu, Marketing Project Manager at La Puyfolaise de restauration, shares her experience of the many disadvantages of the labeling formerly in place in the park's restaurants:
Low durability of the labels, which required very regular renewal
A low quality rendering for the visitors
Long lead times due to the use of an external service provider
Improvement of the buffet labeling was therefore essential in order to be consistent with:
the brand image of the Puy du Fou park
and visitors' expectations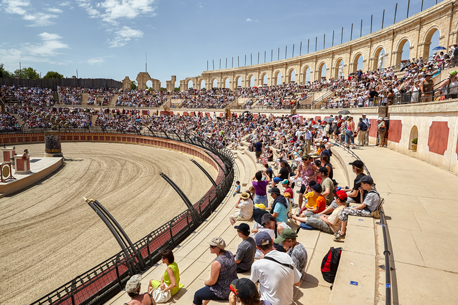 The solution: The all-in-one Edikio Guest Flex offer adapted to the needs and constraints of La Puyfolaise de restauration
The Edikio Guest solution  was presented to Ms. Quetu by the reseller IBCard. Specially designed to meet the needs and constraints of hotel and restaurant professionals, Edikio Guest offers an all-in-one solution that allows you to be completely autonomous in the creation of your buffet labels thanks to:
Label design software with card templates and database import capabilities
Black blank cards and white printing ribbon, which can be complemented with a wide range of compatible consumables and accessories.
« I was immediately impressed by the benefits of Edikio Guest. »
Ms. Quetu has equipped herself with an Edikio Guest Flex to provide all the labeling of the buffets, as well as the 10 fast food outlets in the Puy du Fou park. The solution allows her to:
easily and quickly produce the 500 to 600 labels required for all the catering outlets concerned at the beginning of the season
be completely autonomous and very reactive when occasionally labels are needed for new dishes or when one of them has been lost 
This has saved time and increased efficiency for Ms. Quetu. The labeling is:
always up to date 
clean 
and legible for all restaurant visitors 
She would recommend Edikio Guest without hesitation to catering professionals for its ease of use and esthetic appeal.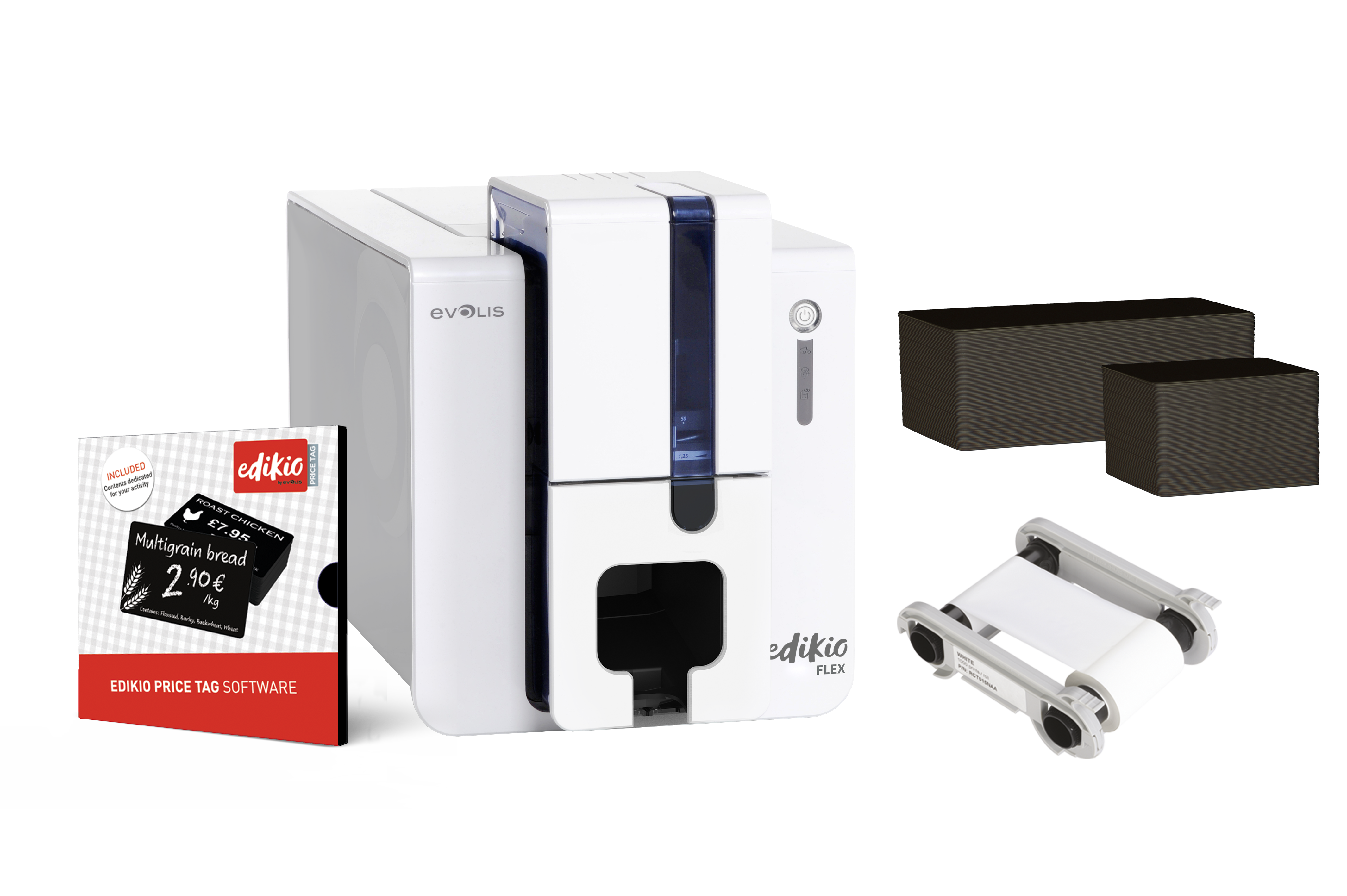 The result: A durable and visually appealing label that enhances Puy du Fou's buffet catering offer and makes it easier for visitors to make their choice on site
The adoption of Edikio Guest labels has enabled La Puyfolaise de restauration to create buffets with a look that is in keeping with the image of the world's number one theme park.
Ms. Quetu exclusively uses long cards in 120 or 150 mm length. The cards include:
The name of the product(s)
English translation
A pictogram for organic or Vendée products
Graphic elements in the theme of the restaurant
Or a price for take-out products
« At a buffet, visitors go as fast as they can. Our goal was to provide them with clear and legible information about our product offering, while ensuring the good hygiene and esthetics of the buffets. »
Black labels printed in white now offer a clean and harmonious look for all products and dishes on the buffet. The labels are:
Durable : The labels remain legible and offer a qualitative rendering throughout the restaurant's opening season without the need to reprint them.
Hygienic : They are unaffected by cold and humidity and are easily cleaned with a cloth.
Food-safe* : In order to meet the constraints of the food industry, white printing on black card has been tested and is in compliance with European regulations.
Labeling buffets may seem like a minor detail. Ms. Quetu's experience shows us that it is in fact one of the elements that enables the catering to be aligned with the global brand image of a great theme park like Puy du Fou.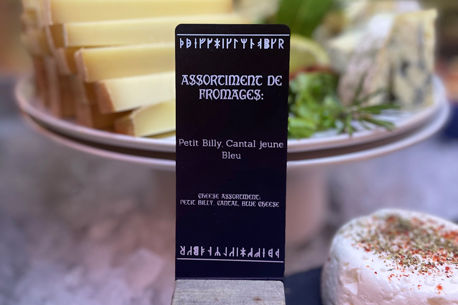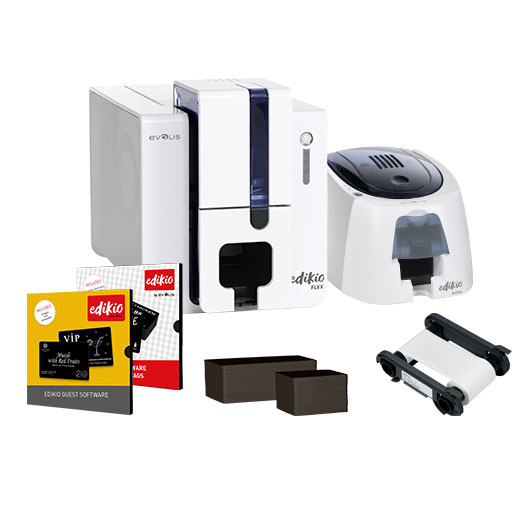 Our
all-in-one

labeling solutions

Edikio offers two ranges of all-in-one solutions to let you design and print attractive labels quickly and easily while cutting costs, all from the comfort of your store or establishment:
-    Price tags with our Price Tag solutions aimed at stores
-    Display labels with our Edikio Guest solutions aimed at hotels and restaurants

Our packs include:
A printer: single-sided our double-sided printing on standard-size or long-size cards
Plastic card design and print software
A printer ribbon and PVC cards designed especially for the food trade*
O
Discover other testimonies
O