Find the right holder for  your tags
Evolis offers an entire range of consumables and accessories dedicated for use in the food industry*. The Edikio range of accessories includes various holders adapted to standard displays and specific to your business (delicatessen, caterer, fish market, hospitality, etc.).
Whether it is for price tag or buffet tag needs, the holders you select must be suitable both for your labels and the products they reference. You need to find the best combination of «Label - Holder - Product».
Choose stands that combine:
maximum stability on your stalls
professional rendering by keeping your tags straight
easy handling to make your life easier,
easy cleaning to save your time,
attractive presentation to make sure your buffets or shelves are visually appealing

Find the right holder to display your price tags on your shelves
Depending on the type of products you are selling or the type of shelves you have, you will not use the same holders for your price tags.
Flat clips, stands that can be placed or stuck in, magnetic, wide, narrow stands: there is' no shortage of options for your shelves!
Edikio Price tag holders meet the demands of every retailer in terms of handling and aesthetics.
Enhance the look of your buffet tags with the ideal holder
The quality of your buffet does not only depend on having good products anymore. It will depend on the way your products are enhanced.
By displaying your buffet tags with adapted and designed holders you will have a harmoniously arranged buffet. Every product can now have its own buffet tag.
You will give your guests clear and comprehensive information to help them make a fast and informed choice.
So it's important to have a clear presentation by having the right buffet tag - holder combination.
Highlight your labels with stands
Our stands can be adapted to different types of configuration. Easy to move, it is the professional, discreet and stable solution to add signage to your food display.
Low metal buffet stand
High metal buffet stands
Tag stand
Magnetic tag holder
Cristal Price tag stand

Slightly angled for enhanced visibility

Stainless steel

Optimal support of your tags thanks to the clamp

Stainless steel + zinc

 
 

Transparent polycarbonate: high impact and heat resistance

Packaged per 10
Packaged per 5
Packaged per 25
Packaged per 25
Packaged per 25
Part # AC000013

Part # AC000014 – 10cm

Part # AC000015 – 18cm

Part # AC000003

Part # AC000002 – 8cm

Part # AC000005 – 12cm

Part # AC000011 – 8cm

Part # AC000012 – 12cm
Hang your tags directly on your dishes or bottles
Depending on your activity or presentation, you may need to attach your tags directly to your dishes or bottles.
 

Tag clamps
Bottle Neck Tag Holders

 

Can easily be attached to any
crocks, bowls and dishes

 

Evolis exclusivity
Discreet, the tag holder can be adapted to different types of layouts
Packaged per 25
Packaged per 10

Part # AC000007 - 4cm

Part # AC000008 - 8cm

Part # AC000020
Use spikes to display your price tags
Our polyvalent spikes are the easy way to add or update signage to your food display.
 

 

 

Price tag spike
Wide price tag spike
Packaged per 25
Packaged per 25
Part # AC000001
Part # AC000004
Combine two tags within seconds
When it comes to increasing the surface of writing and/or to highlight specific communication messages, you have multiple possibilities.
You can either:
Clearly display all the necessary consumer information using standard CR80 format cards: ingredients, prices, allergens, production method, origin, nutritional information, dual language communication.
Highlight your offers and specific messages: Today's Special, Organic produce, Locally sourced, Gluten free, Recommended.
 

 

 

Promo badge + cristal fixing clip
HGripper
Dual ticket holder
 
 

Evolis exclusivity

Dimensions: 89x111mm

Packaged per 25
Packaged per 25
Set of 5 units
Part # AC000006
Part # AC000009
Part # AC000010
A whole range of accessories dedicated to the food industry 
Find the perfect accessories for all your others needs
Regardless of the type of cards you are printing, whether it is for buffet, events or your employees, they always need to be held or protected. Evolis proposes an extensive line of identification accessories, from badge holders to custom lanyards.
They are the ideal complementary offer, when it comes to identify goods or people, protect and carry badges.
Improve your customer experience with our accessories for:
Event cards
Promotional and gift cards
VIP cards
Room access cards
Service access cards
Employee badges
Loyalty cards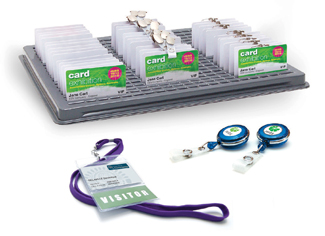 Each of our accessories is subjected to rigorous quality control to fulfill all expectations and needs. Our wide offer of accessories can answer most of your demands or needs.
It is composed of:
Rigid / Soft badge holders: help you to keep your cards in good condition and prevent them from deterioration
Badge reels: handy tool when it comes to the close-up reading of badges
Clips: metal clips, croco or suspender-type with reinforced vinyl strap for rigid badge holders
Lanyards: they are the perfect accessory to simplify badge-wearing by keeping your badges at your fingertips
Discover Evolis range of identification accessories