Edikio printers by Evolis
Edikio:

professional and original presentation tags on plastic cards

.

The Edikio by Evolis brand specializes in retail and hospitality. Edikio solutions by Evolis offer you everything you need to create attractive labels quickly, efficiently, and economically. These solutions are innovative alternatives to the labeling methods traditionally used in stores, restaurants and hotels. Whether you work in hospitality, are an freelance caterer, a department manager or supermarket manager, you will be drawn to our solutions because of:
their simplicity of use,
their performance,
their originality,
the quality of the labels produced on plastic cards.
Evolis:
the world leader in plastic card printing solutions
Created in 2000, the Evolis group designs, produces, and markets a complete range of plastic card personalization solutions designed for the identification of people and goods. Our core business is the design and production of plastic card printers for various sectors: businesses, healthcare, education, transportation, leisure, banks, and even governments:
Based in Angers (France), with subsidiaries in Miami and Boston (United States), Singapore, Shanghai (China), and Mumbai (India), the Evolis group employs over 350 people around the world and its solutions are distributed by more than 400 partners in 140 countries.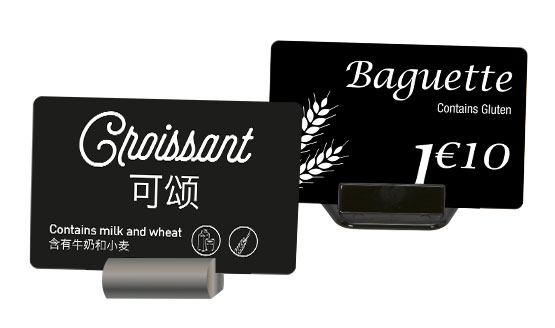 Expertise recognized by
more
than 27,000 points of sale
Edikio label printers by Evolis come with all of our business expertise and are made in France to high-quality standards within our ISO 9001-certified production unit.
Thousands of professionals in all corners of the world have already adopted Edikio solutions by Evolis in order to create and print their presentation labels. Why not join them!