Edikio Guest Flex

Display label printing solution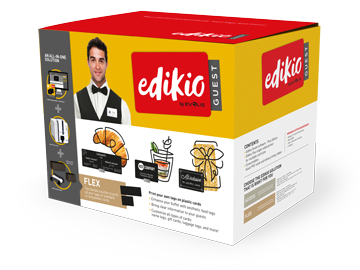 A flexible all-in-one solution to print your personalized cards and display labels in a range of different formats.
The Edikio Guest Flex solution lets you print display labels for buffets and all types of personalized plastic cards in standard or long format.
The Edikio Guest Flex solution includes:
A label printer
Label design and print software - Plus edition
A printer ribbon for up to 1,000 copies*
100 credit card format PVC cards (84.6 x 54 mm)
100 long PVC cards (150 x 50 mm)
*credit card format
Solution features
Two label formats (standard and long)
Expert buffet label design and print software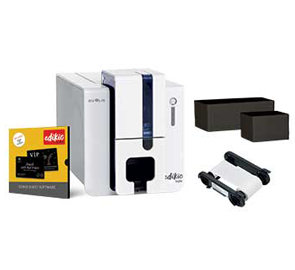 A library of 200 different label templates with images included
Import Excel data feature
USB and Ethernet connection
Highlights

Print all types of labels and cards in color or monochrome.

Print a label in under 15 seconds.

User-friendly and intuitive
Design your cards using quick and easy software - including new users.
Video introduction to the solution
The Edikio Guest Flex solution includes:
A display label print and design solution
Efficient and intuitive, the Edikio Guest Plus Edition lets you design and print your buffet labels and all other cards in color or monochrome. Thanks to the support feature, use the software to personalize your cards in a matter of clicks by adding your product details and logo. Designed to make creating and printing single-sided labels in long or credit card format as easy as possible, the software includes:
A huge range of different templates and images to use to personalize your labels and cards.
The option to import your Excel databases to make updates and product tracking easier than ever.
The option to lock down your templates with a password feature to prevent them being altered.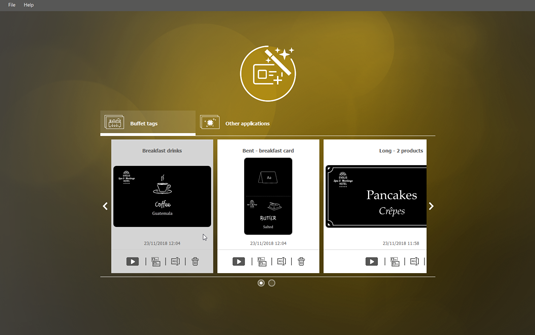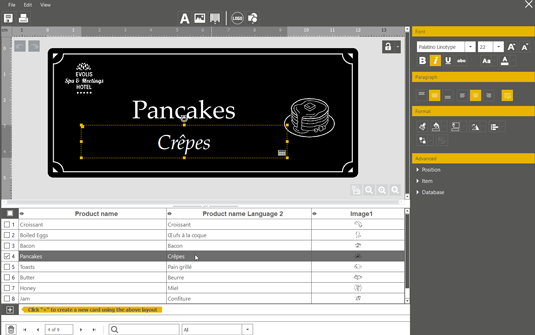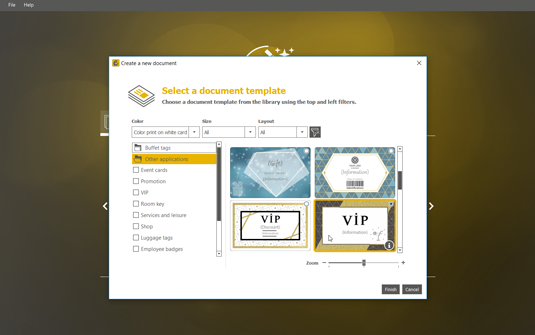 A support feature for step-by-step assistance with creating your display labels.
Creating and printing your labels is easier than ever thanks to the preview feature.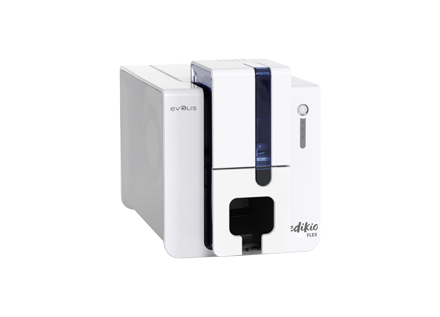 Ideal for printing standard (credit card-sized) and long labels.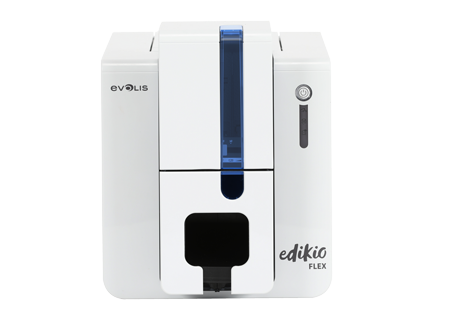 The charger and output tray are located at the front of the printer, making it easier than ever to charge and collect your labels.
A label printer
As easy to use as a standard printer, the Edikio Flex printer lets you print professional-standard monochrome or color cards in multiple formats.  
Made in France in an ISO9001-certified factory
Eco-designed: extended standby mode and reduced energy consumption
2-year warranty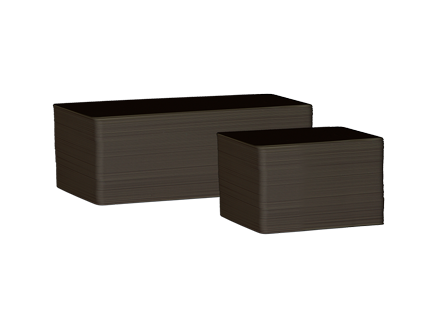 Two packs of 100 black cards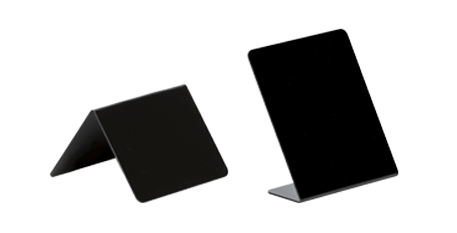 Multiple options for folding and orientation of your labels to diversify your displays
200 black plastic cards
For an elegant, premium feel, print on our matte-finish black plastic cards with white, gold or silver trim.
If you need extra space, choose the long format - perfect for including all the information your clients need.
200 black PVC cards (100 credit card-sized and 100 long)
Credit card format measurements: 85.6 x 54 mm - 0.76 mm thickness (CR80)
Long card format measurements: 150 x 50 mm - 0.50 mm thickness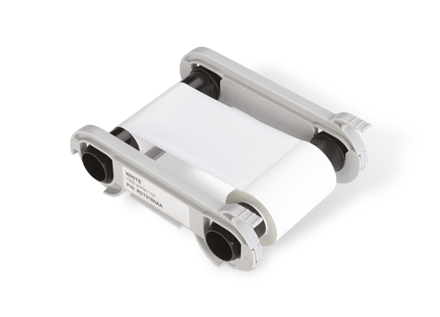 White ribbon for printing on black cards
A printer ribbon
Our printer ribbon printing quality ensures your display labels feature a slick, professional finish.
White ribbon
1,000 single-sided credit card format copies per ribbon
Or 640 150 x 50 mm long format copies
A wide range of consumables and accessories to meet all your customization needs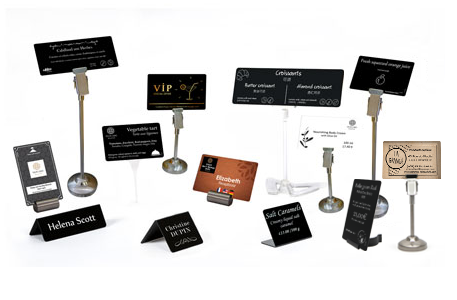 Wide range of accessories available for all your needs. Choose high or low metal holders to enhance your buffet counters.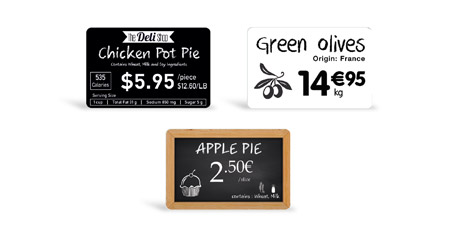 Different display label and badge options are available thanks to our comprehensive selection of cards and ribbons.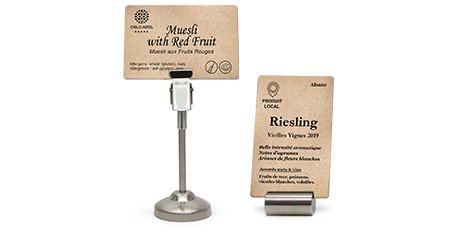 An alternative range to PVC (PLA/WOOD cards and paper cards) for specific uses.
The separate range of Edikio accessories and consumables offers a large choice to meet all your requirements: 
Different formats of black or white cards: credit card and tricard format. 
PLA/WOOD cards and paper cards that offer you an alternative to PVC for specific uses in black monochrome. 
Monochrome printer ribbons (white, black, red, blue, green, gold and silver) or four-color printing.
Numerous metal or plastic holders 
Find the right holder for your tags
Browse our other

all-in-one card and label printing solutions
O