Original, professional display labels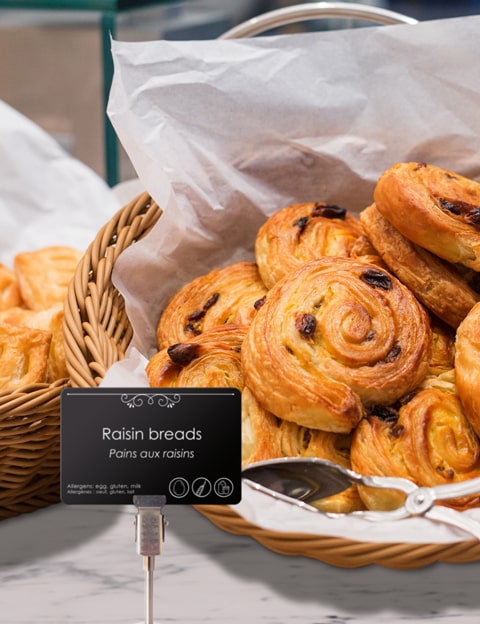 Print your own
buffet labels and price tags
of consumers say it is important to get transparency about what is in their food and how it is made.
Professional, personalized price tags
Save time and strengthen your brand image by choosing the Edikio Price Tag labeling solution.
Use Edikio Price Tag to efficiently design and print appealing price tags direct from your store, saving you time and money.
*Source: The 2016 Label Insight Food Revolution Study
Hotel and restaurant owners:
of hotel guests prefer labels for each dish rather than a general buffet display.
Buffet labels that mirror your brand image
With Edikio Guest, design and print your own visually-appealing display labels on plastic tags to give clients all the information they need.
You can also use Edikio Guest solutions to produce cards that detail all the services you offer.
* Source: International study by Evolis, analyzing 4* hotels - 2017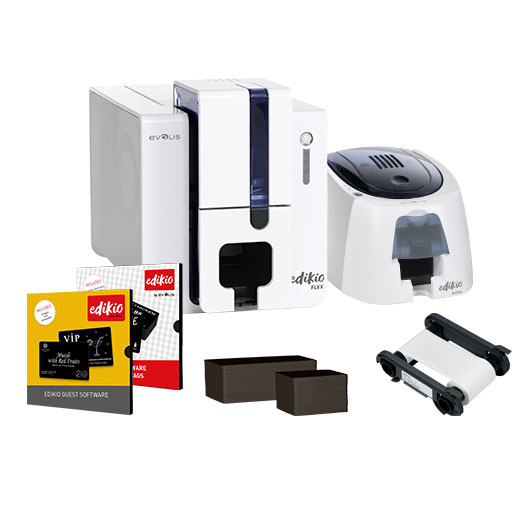 Our
all-in-one

labeling solutions

Edikio offers two ranges of all-in-one solutions to let you design and print attractive labels quickly and easily while cutting costs, all from the comfort of your store or establishment:
-    Price tags with our Price Tag solutions aimed at stores
-    Display labels with our Edikio Guest solutions aimed at hotels and restaurants

Our packs include:
A printer: single-sided our double-sided printing on standard-size or long-size cards
Plastic card design and print software
A printer ribbon and PVC cards designed especially for the food trade*
The Edikio by Evolis brand specializes in retail and hospitality. Evolis is a card-printing system manufacturer that aims to make labeling products easier and optimize presentation through its range of solutions that allow you to print attractive, personalized and handy plastic cards. These solutions are innovative alternatives to the labeling methods traditionally used in stores, restaurants and hotels.
The benefits of
plastic card labeling solutions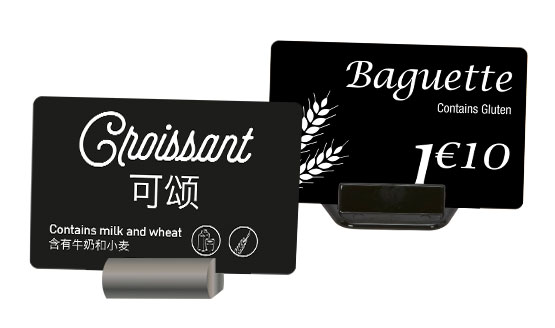 Display clear product information in the right format:
Give your clients and customers access to all the information they need to make an informed choice. The plastic cards are available in a wide range of different formats and colors, allowing you to tailor them to your own specific display needs.

Improved brand image:
Stand out from the crowd with attractive, premium and slick labeling that reflects who you are.

Ultimate speed:
Create your labels on demand, directly on site to ensure all the information your clients and customers need is updated in real time.

Easy to use:
The included software allows you to generate personalized labels in minutes, and the card printer can be used as easily as a standard desktop printer.
Multi-faceted:
Edikio solutions also allow you to make every type of card imaginable, from employee badges and gift cards to events cards and more.
Spotlight on
The number of people with food allergies increases each year and it becomes more and more important to display easy to read food allergen advice to customers, to inform them of what's in their products and build stronger connections with them.
Benefit from the wide range of features of Edikio Price Tag Software on Mac
The tobacco shop "La Cigare et la Plume" chose Edikio Price Tag, a labeling solution fully adapted to the conditions of the cigar cellar.