Manage efficiently and quickly daily issuance of price tags at the point of sale.
The challenge: Print easily and more efficiently esthetic price tags for a supermarket.
Constant price changes in perishable products add complexity to the recurring updating of price tags. To manage the daily issuance of price tags more efficiently, the neighborhood market in Cardiff-by-the-sea, California, installed an innovative system to print esthetic price tags on plastic cards directly at the point of sale.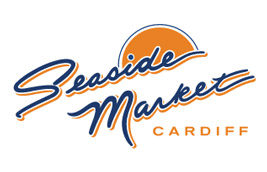 The solution: Evolis printing system to design and issue price tags directly at the point of sale
When General Manager John Shamam attended the foodservice equipment show NAFEM in 2015, he saw the Evolis printing system which enables retailers to design and issue price tags directly at the point of sale. The system allows Seaside Market to harmonize the look and feel of the meat, seafood, cuisine and catering department and to gain in efficiency. All staff members agreed that saving time by not having to print, laminate, and cut paper signs on a daily basis for all four departments meant a huge progress.
The result: A hundred food compliant price tags quickly and easily issued each week
The printer is positioned in the office and used by the store coordinator who enters all new items in an organized database and creates card templates for each. Fish and meat product labels are printed on black cards which have been tested for food compliance by independent laboratories. Other product labels such as those proposed in the cuisine and catering department are printed on white cards.
The price tags contain the product name, ingredients, price and allergen codes. The store coordinator edits around 100 price tags a week.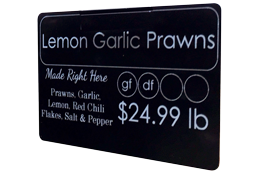 Edikio – Three new price tag solutions
In March 2017, Evolis has launched three new all-in-one solutions for price labeling on plastic cards that meet the diverse needs of small, independent food retailers up to large retail outlets.
All Edikio solutions are comprised of card design software, a card printer, blank plastic cards and a print ribbon, enabling cards to be printed quickly and independently onto a plastic card. Price tags can thus be created at any time, directly at the point of sale, individually or in batches.
Evolis offers three solutions adapted to the needs of all food retailers:
Edikio Access, the affordable solution for single-sided card printing in credit card format for small volumes.
Edikio Flex, the flexible solution for printing price tags in long format as well as credit card format to fit different display needs.
Edikio Duplex, the advanced solution for double-sided and high-volume card printing. The reverse side allows for the display of information dedicated to the sales staff.
The printer operates just as easily as an office printer. The plastic cards and the print ribbon included in the Edikio pack are installed in a single gesture.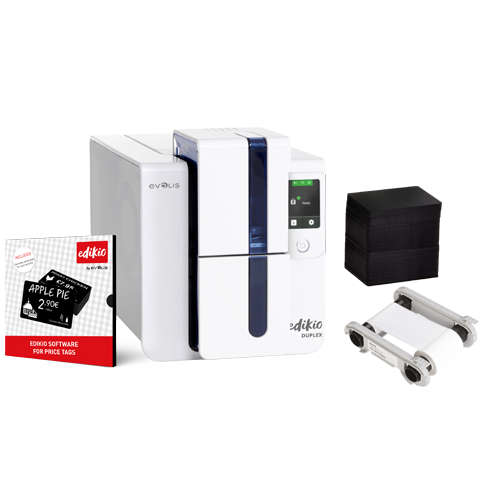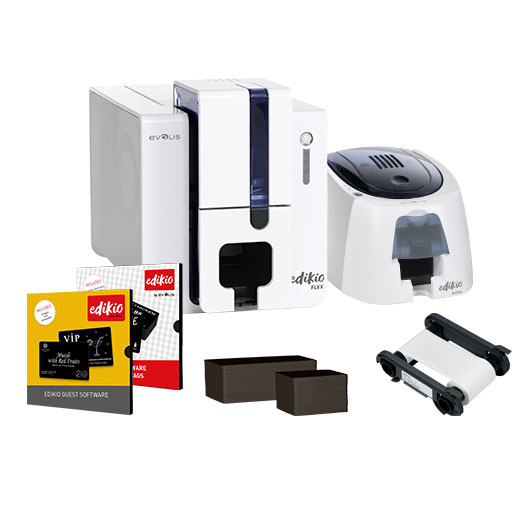 Our
all-in-one

labeling solutions

Edikio offers two ranges of all-in-one solutions to let you design and print attractive labels quickly and easily while cutting costs, all from the comfort of your store or establishment:
-    Price tags with our Price Tag solutions aimed at stores
-    Display labels with our Edikio Guest solutions aimed at hotels and restaurants

Our packs include:
A printer: single-sided our double-sided printing on standard-size or long-size cards
Plastic card design and print software
A printer ribbon and PVC cards designed especially for the food trade*
O
Discover other testimonies
O