La Chocolatine bakery relies on Edikio Price Tag for the labeling of its 250 products.
The challenge: to make it easier to manage the price tagging of 250 bakery products
Trading in Bouin since 2006, the La Chocolatine bakery no longer needs to make its name, having won the "France's Best Bakery" competition for the Pays de la Loire region in 2021. With its 17 employees, it offers a range of more than 250 products, including homemade specialties that are well known and appreciated among its customers.
Managing the labeling of these numerous products had become a real headache for Hélène Merlet, manager of the bakery and in charge of creating and updating those tags.
"We used the D [...] system. It was longwinded and complicated."
Ms. Merlet had no less than 3 ways of creating her price tags:
 The first one consisted of creating a table for each product in a word processing software. The table was then printed onto thick paper, laminated and cut by hand.
The second way was to print self-adhesive labels in relief that were stuck onto a rigid support.
Finally, for breads with a particular legislation in terms of labeling format, Ms. Merlet used a printshop.
These methods had too many constraints and negative points for Ms. Merlet:
Some tags were not updated due to printing constraints that did not allow for a single tag to be printed.
The store's labeling was inconsistent because of the variety of tags that were sometimes computer generated, sometimes handwritten, or sometimes produced at the printshop.
The cost and time (sometimes more than a month) of using an external service provider were too high for a mediocre quality of rendering.
Finally, the time and organization required for this task became too much.
For all these reasons, Ms. Merlet was looking for a simple and efficient solution to replace the existing labeling.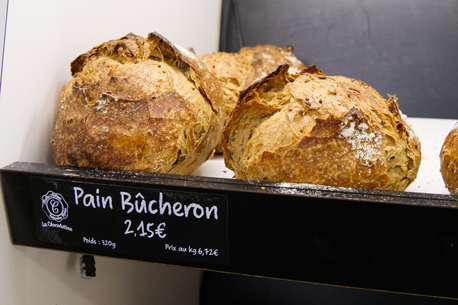 The solution: Edikio Price Tag Flex, the solution for bakeries and their constraints
Thanks to a friend who also runs a bakery in Saint Gilles Croix de Vie and who had an Edikio Price Tag Flex, Ms. Merlet finally found the right solution for her needs. After a few exchanges with IBCard, her closest reseller, and receiving samples of printed cards to see the quality of the tags, it didn't take long for Ms. Merlet to be totally convinced by the Edikio Price Tag offer, which includes:
Since 2021, the La Chocolatine bakery has been equipped with an Edikio Price Tag Flex to print all the price tags for its products.
"The solution and especially its software are easy to use. Printing is fast and easy, and the final look is professional. It's really great!"
Now, she can:
Print one tag at a time according to need (price changes, new products, etc.) without having to wait.
Write all the information about the product (name, price, weight, price per kilo, etc.) directly on the tags in a legible way.
Easily clean the tags thanks to the PVC cards, which are food safe*.
What's more, the option to print on long cards offered by Edikio Price Tag Flex is a real asset for bakeries since long cards respect the size constraints imposed for bread labeling. The credit-card format cards fit perfectly in the window, without hiding the products.
Edikio Price Tag offers a real improvement in time, efficiency, and results for Ms. Merlet on a daily basis.
The result: a customer experience that lives up to the bakery's brand image and the quality of its products
More than 250 price tags created with Edikio Price Tag are in use at the La Chocolatine bakery, with nearly 50 more added during holidays like Easter.
"I print new tags very regularly. My bakers are very inventive and can sometimes come up with a new cake a day! With Edikio Price Tag, printing a new tag is super simple and fast."
Ms. Merlet is convinced by the Edikio solution, and the feedback from her customers has only confirmed that the bakery has made the right investment. They immediately noticed the new labeling when it was introduced and the feedback was positive: 
"Clean"
"Readable"
"Much better than before"
One year on, customers are still finding their way around as easily as ever. The information is clear, accurate, and up-to-date, which helps them in their purchasing choices. The professional and harmonious look is THE strong point of the solution for Ms. Merlet:
"These tags help enhance the esthetics of our store. They highlight our products. [...] Their color (black printed with white) matches the color scheme of the store.
They look great."
And since word of mouth worked for Ms. Merlet, she in turn already recommended the Edikio Price Tag solution to the 2022 winner of the "Best Bakery in France" competition in her region!
It would seem that Edikio Price Tag and the bakeries that have adopted it are a winning combination every time...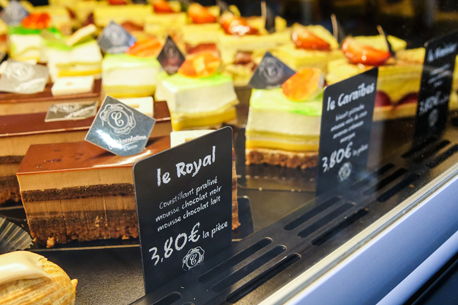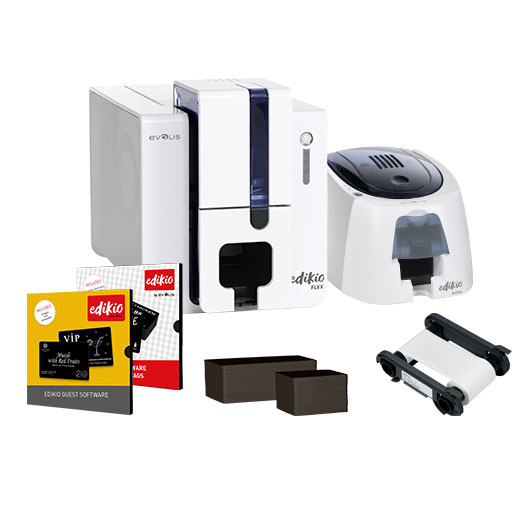 Our
all-in-one

labeling solutions

Edikio offers two ranges of all-in-one solutions to let you design and print attractive labels quickly and easily while cutting costs, all from the comfort of your store or establishment:
-    Price tags with our Price Tag solutions aimed at stores
-    Display labels with our Edikio Guest solutions aimed at hotels and restaurants

Our packs include:
A printer: single-sided our double-sided printing on standard-size or long-size cards
Plastic card design and print software
A printer ribbon and PVC cards designed especially for the food trade*
O
Discover other testimonies
O