Offering your guests a perfect breakfast buffet: Mistakes to avoid
The buffet: a highly appreciated breakfast style with some challenges to overcome
Breakfast is a source of pleasure and indulgence. Guests who choose to have this meal at their hotel expect to get a service that matches the price which can sometimes seem high. Therefore, it is important that their expectations are met.
89 % of hotel guests prefer a buffet breakfast*
Why? Quite simply because a buffet often allows your guests to choose from a wide range of products on offer. Everyone can eat however much they like of whatever they like.
However, even if you have followed the advice in our previous article for making your breakfast buffet stand out, this way of serving products can be particularly difficult when it comes to hygiene and cleanliness. Dozens of guests helping themselves and moving around during the service can quickly turn your buffet into bedlam. A lack of hygiene and cleanliness, as well as poor presentation, can damage your hotel's brand image. It is therefore essential to follow a few simple rules to offer an immaculate breakfast buffet to your guests and make it a real selling point for your hotel.
The importance of observing food safety standards
This may seem obvious, but setting up a breakfast buffet requires strict adherence to hygiene standards. A case of food poisoning in your establishment is out of the question. This would permanently damage your reputation and the image of your catering service.
| | | |
| --- | --- | --- |
| |   | |
| Respect temperatures |   | Clean regularly |
| Your buffet should include a variety of foods, both cold and hot. For your cold foods, you must keep the cold chain unbroken from delivery to serving. Cold meats, dairy products such as butter, milk or cheeses, prepared fruits and fruit juices must be served refrigerated between 0 and 4°C. Hot products should be stored above 63°C and cooked on demand or as needed. Do not hesitate to take temperature readings regularly. |   | With dozens of guests passing through, you need to have an up-to-date cleaning schedule. You can make a list of equipment and the procedure to follow so that all equipment is regularly cleaned before, during and after the service. For example, a knife that falls on the ground must be replaced immediately, and tablecloths must be washed and clean every morning. |
| |   | |
| Protect sensitive products |   | Do not keep leftovers |
| Plastic film should not be used as it is unsightly and ineffective. However, you can protect sensitive products with a sneeze guard or airtight domes so that they are not left exposed to air or the sun. |   | It is essential to dispose of some unconsumed products such as hot or cooked foods at the end of the service. Unpackaged products must not be offered for more than two hours at room temperature. If there is any doubt , the product must be removed from the buffet. |
Presentation of your buffet: make your guests' lives easier...
Your guests themselves are often the main cause for an untidy breakfast buffet. It is almost impossible to avoid things like a knife with the handle in the butter, bread or pastry crumbs on the display table, or the jelly spoon placed on the tablecloth.
However, you should think carefully about how you present your foods in a way that helps limit this kind of setback. The idea is to make it easier for guests to help themselves to food thanks to a few simple and practical changes.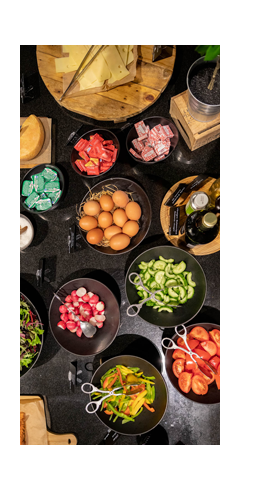 1- Rethink the general layout
It is important that each product category has its own space. This will prevent guests from mixing cold and hot foods, or from getting honey on your lunch meats. Ideally, you should have well-defined spaces for hot foods, cold foods and dry or side products. In addition, placing dishes at different heights can help you to present your buffet in an attractive way. But don't forget that if too many products are "on top of each other", guests may touch the ones below to grab hold of ones above or behind. Everything must be within easy reach!
2- Provide at least one practical serving utensil for each food item
This may seem obvious, but guests often find themselves using the tongs provided for the bacon to pick up some cheese. It is therefore important to provide them with different serving utensils for each of your products: spoons, ladles and tongs in different shapes or colors, knives, forks, etc. If they are used for messy products (butter, jams, spreads, etc.), remember to provide knife holders or small plates to place them on so they don't end up straight on the table or left in the dish. All serving utensils must be regularly replaced or cleaned during service if they become too dirty.
3- Make the right choice between bulk and individual portions
On your buffet, you can offer your foods in two different ways: in bulk or in individual portions. While the former addresses environmental issues by helping to reduce waste and may seem more visually appealing, the latter appeals with its practicality, specifically to help prevent guests from handling certain products. It is essential for you to choose wisely between these two options for each type of food item. Do you like serving foods loose? Offer breads that have already been sliced, sides with appropriate serving utensils, cereal in airtight jars or attractive dispensers. Butter is a good example of a food item better presented in individual portions to prevent your nice block of butter from ending up entirely in the trash after being contaminated by guests.
…and your staff's!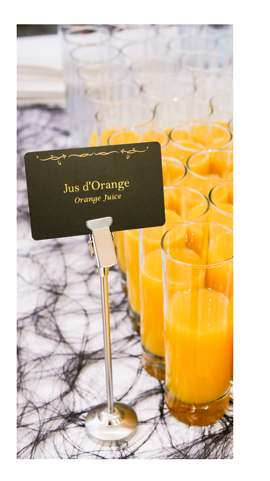 Good buffet hygiene is also and above all the responsibility of your catering staff! They need to be quick to take the right steps to keep things running smoothly. Making life easier for your guests will certainly make life easier for your employees. But it's also important to think about what you can put in place to help them do their job.
1- Establish clear procedures and guidelines
It is essential for your employees to have clear procedures and instructions regarding the hygiene and cleanliness of your buffet. Even if replacing a spoon that has fallen on the floor seems like a no-brainer, your employees can't always remember all the rules, especially during a rush! Make sure they know when to replace or dispose of different food items, clean equipment, replace serving utensils, etc. You can ask them to keep a cleaning schedule or a log book with expiry dates or temperature records. Simple tools like these will allow them to get organized.
2- Think about little things that make a big difference
Your employees can waste a lot of time cleaning equipment that is unsuitable for a buffet. Your labeling could be one of these things! Plastic-coated paper labels, for example, are a significant waste of time for your staff. If a label gets stained or becomes illegible during breakfast, they won't be able to deal with the issue until after the end of service. Then, replacing laminated paper labels is time-consuming and the result is not visually appealing. Implementing buffet-friendly plastic card-format labels with stainless steel holders can be a solution that will make a difference! They are easy to clean by a quick wipe with a cloth or some soapy water, and some labeling solutions are specifically tailored to the food industry. Your employees will no longer waste their time by having to replace the buffet labeling again every day. Everything is ready to be put back in place in a few minutes..
Case study – Newport Marriott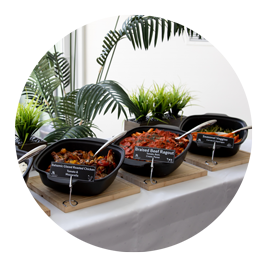 The Newport Marriott contains 3 restaurants within the 320-room hotel. With each restaurant serving a minimum of ten different dishes at multiple buffets, it was necessary to find a solution that would satisfy the hotel's buffet labeling needs in a simple, economical, and upscale manner.
With Edikio Guest Flex, the Newport Marriott buffets now boast:
Enhanced Brand Image - Create aesthetic and professional presentation labels that reflect your business and reinforce your visual identity.
Maximum Flexibility - Benefit from total autonomy by creating your own presentation labels within a few minutes yourself.
Hygienic and High Quality - Hygienic, resistant and easy to clean, the PVC card is particularly suitable for food environments.
*Coach Omnium – Statistiques sur les clientèles hôtelières