The art and manner of enhancing your breakast buffet: our three tips to follow
Never underestimate the power of a beautiful breakfast buffet
While the breakfast offer is one of the key factors to guest satisfaction, even going so far as to be the deciding factor in choosing one hotel over another, 23%* of guests feel that this service has not yet been properly emphasized, or even that it has been botched.
There are numerous reasons why one might be dissatisfied with this service, but the following are the most common reasons:
Poor product quality

– 35%*
Lack of hygiene and cleanliness – 29%*

The use of industrial products

– 28%*
Nevertheless, as we pointed out in our previous article, breakfast is a true business opportunity for your establishment. It is important to avoid disappointing your guests by providing them with the best possible experience. Providing a breakfast which meets your guests' expectations will strengthen your hotel's brand image.

Food trends: picture perfect dishes!
"Is my breakfast buffet visually appealing?"
Have you already given this some thought?
Nowadays, the visual aspect of food sometimes takes precedence over its taste. This food trend is highly common on all social networks.
69% of millennials (i.e. people born between 1980 and 2000) take photos or videos of their dishes before eating to share on social networks.
38% of Instagram users view food-related content.*
The hashtag #petitdejeuner (French for breakfast) has been used on more than 1.1 million photos on Instagram, while its English translation has been used on more than 84.5 million photos and the hashtag #breakfastbuffet has been used on 58.2 million photos.*
These figures can be dizzying. Some chefs assert that we eat with our eyes and nose first before tasting what is on our plate. Taking a photo of it would even increase our enjoyment.* This kind of sharing on social networks is more than just a trend. It can also provide you with a high level of free publicity.
Your buffet's presentation must therefore tempt your guests to indulge in it and maybe even sway their friends and family or their followers on social media on their choice of hotel in the future.
3 ways to make your breakfast buffet stand out and avoid foodie faux pas
1 - Choose quality products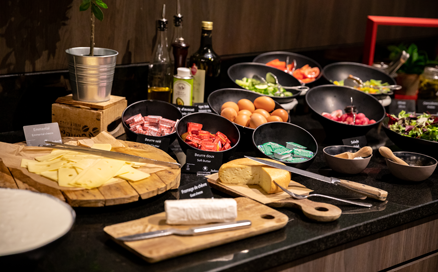 This can never be said enough: the selection of your products and their quality is the key to a successful breakfast buffet. Even though people's tastes differ and you won't be able to satisfy everyone, it is important to select visually appealing and high-quality products which will bring real added value to your buffet.
Don't hesitate to offer multiple types of products to make your breakfast attractive and high quality:
Premium foods such as charcuterie, dairy products, eggs and fresh pastries ensure, despite their higher costs, that your guests will perceive it as high quality.
Image-related foods such as locally sourced, homemade and seasonal products, to name a few, help to differentiate your buffet from its competitors by offering something unique.
Condiments and side dishes such as cereal, jam, and milk often do not provide your buffet with any real added value. You can, however, also use products which are slightly different from what is usually offered to enhance the quality of your breakfast such as by opting to use homemade jam or locally sourced honey.
While it is not necessary to offer a large number of high-end products in your buffet, it is nevertheless very important to ensure the quality of any food essential to your breakfast offer. By providing your guests with an adapted and customized breakfast offer, you will be able to set yourself apart from your competitors.
2 - Give your buffet a dramatic touch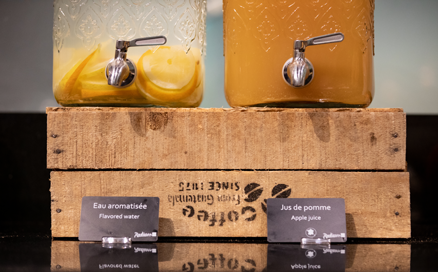 While the quality of your products is a key factor for a successful breakfast, you should not neglect the esthetics of your presentation. As we mentioned previously, the presentation of products in your buffet is crucial for catching the guest's eye and more importantly for making your guests and prospective guests want to indulge in it.
The buffet should be the star of the show in your breakfast area. Spruce it up!It needs to be properly staged in terms of the layout, selection of containers and materials used, information made available, lighting, decor and so forth. Each of these elements should be carefully thought out to meet both your practical and esthetic requirements. By beautifully staging your buffet, you increase your guests' perception of receiving quality service.
Here are some important tips:
Vary the height of the display: A flat buffet will not allow guests to see the full range of choices available to them. By placing certain products on higher displays, you can highlight them and avoid an excessively linear presentation.
Play with textures: You can use wicker baskets for your bread and pastries, slate boards for your cheese, etc. This adds a touch of originality and draws attention to specific products.
Add color to your buffet: It is eye catching, and your guests are expecting to see beautiful, colorful fresh products. Lighting also plays an important role. Try to avoid poor lighting which will not inspire guests to indulge in the buffet.
Decorate your space: Decorating may seem futile or useless, but it can still bring a touch of liveliness to your buffet. Some products can even be used as temporary decorations! For instance, you could display a large loaf of French sourdough bread on a tablecloth for guests to slice themselves.
3 - Don't neglect the details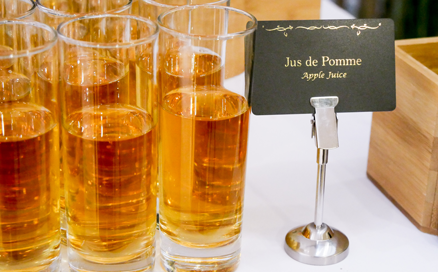 Are you familiar with the phrase "the devil is in the details"? It means that you should never overlook the details as that could lead to major problems. This is also the case when it comes to breakfast buffets. Many guests complain about the lack of detailed information, the presentation and even the hygiene and cleanliness of buffets.
However, you can easily avoid this negative image by paying attention to the following details which can make all the difference:
Implement a labeling solution in your buffet to provide your guests with all the information they need to choose their dishes. They need guidance, and this is where tags come in. In addition to simply being informative, tags can also be a solution for your esthetic needs! For example, using simple plastic cards for tags provides a professional and consistent display where you can even place your logo, all while being easy to clean and replace.
Choose suitable display accessories. These also play a role in the esthetics of your buffet. To showcase your different types of products, you need to highlight each one in a different way. There are a multitude of professional accessories which make it easy to display your tags. You can choose between metal or plastic, different heights as well as between clips or stands depending on what best meets your needs and expectations.
By paying attention to these details, you will improve the image of your breakfast service and your establishment among your guests.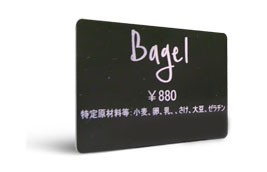 Case study: Osaka Hilton Hotel
Until recently, the Osaka Hilton hotel in Japan, which offers a diverse breakfast buffet and gourmet sushi bar, has displayed its dishes for its guests using laminated paper tags which did not reflect the modern and elegant style of the establishment. This five-star hotel has opted to print its tags on black plastic cards for a more professional look. Their guests, especially the regulars, noticed this change in the presentation of their buffet. They appreciated the clarity and consistency of how the dishes are now displayed and found the buffet to be more attractive.
*Sources :