Regulations related to the labeling process of food shops: understand them better to apply them properly!
Each industry, each type of business, and each country has its own standards and regulations that must be met to provide the safest possible experience for consumers. This is particularly true for food shops that sell food products. Indeed, these products require a lot of attention in terms of hygiene, traceability, and various pieces of information to be communicated to customers. It is therefore essential for retailers to understand this and to opt for simple and effective means to ensure that their labeling is in order.
Each profession has its own rules to follow
Some regulations affect several professions. This is the case with the European INCO regulation which impact all food professionals selling non-prepackaged food products: Bakers, pastry chefs, fishmongers, manufacturers, butchers, restaurant owners, etc. In particular, it requires them to indicate the country of origin or the place of origin of the meat as well as the notifiable allergens contained in their prepared products.
However, each type of business must comply with specific labeling standards imposed by its respective country. Let's take the example, in France, of the information that must be displayed to consumers:
For beef, butchers will indicate the animal's reference code, country in which it was slaughtered, country in which it was born, and country in which it was reared.
For each category of bread, bakers will display a sign measuring at least 15 cm x 2.5 cm, mentioning the name of the bread, its weight, its price per loaf, and, for breads over 200 g, the price per kg.
Cheesemakers will label their cheeses with their name, the price in kg, in units or pieces, or by portion, the actual fat content, and the heat treatment applied or not applied to the milk.
Wine merchants will indicate, in a legible way and close to each product, its volume, its price, and its price per liter.
The main thing is for everyone to learn about and respect the regulations that apply to them.
Regularly stay informed so as not to be left behind
It seems obvious and important to stay on top of the regulatory information related to your business, but it is not so easy to free up time for this unattractive aspect of your business life. As we know, standards and regulations tend to evolve regularly, sometimes with regard to details, other times on issues that are much more significant. It's hard to keep track if you don't have the right information sources.
Natasha's Law, which came into effect in the UK on October 1, 2021, is a perfect demonstration of this. One month after its introduction, a study by the global standards organization GS1 UK revealed that 40% of companies impacted by this law requiring allergen labeling on pre-packaged products had not even heard of it.
To remedy this lack of information, you can create alerts on your internet search engine using keywords related to your business. But your best allies will also be:
 

 

The official government websites of each country

You will find all the official information related to your government department and therefore to your sector of activity, from the most practical advice to help you in your daily life as a retailer to the details of each law currently in force.

 

 

Federations and groups of craftsmen

Grouped by trade and sometimes by region, they make it possible to connect with other craftsmen having the same concerns and to also obtain information relating to the specificities of the trade.

 

 

While they ensure the collective and individual defense of employees' interests, both at national and company level, they are also active in social dialogue with the State. They are therefore an interesting source of information to follow.

 

 

An essential information medium with a strong educational value, it will regularly showcase the news and developments related to your profession.
Choosing effective tools: what if simple labeling could be the solution?
When we talk about display standards, we can't help but think about the medium itself. Labels, posters, notebooks... information can take multiple formats and be conveyed in different ways. The main thing is to find the most accurate and practical tool for you, as retailers, who must respect specific rules, but also for your consumers who must be able to easily access the mandatory information.
What if we told you that labels printed with Edikio Price Tag could be a solution?
Edikio Price Tag solutions have been designed and created for and with retailers in order to simplify and significantly improve the labeling of their products. In practical terms, Edikio Price Tag provides a pack including:
And, if you want to go further, a complete range of consumables and accessories dedicated to the food industry (long cards for bakers, meat pick labels etc.)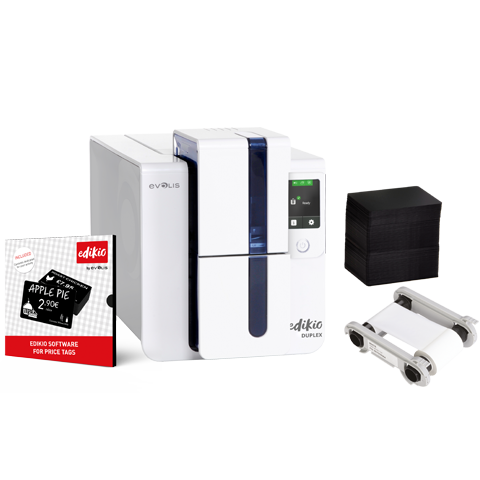 Edikio Price Tag allows you to:
Fully customize your price tags in the image of your business,
by incorporating the mandatory information related to your products,
while respecting the display rules specific to your business.
All of this printed in just a few seconds, directly at your point of sale!
Discover our solutions for retailers
With Edikio Price Tag you have all the cards in hand.