Why and How to Use Ratings for your Products ?
Ratings—a known and appreciated tool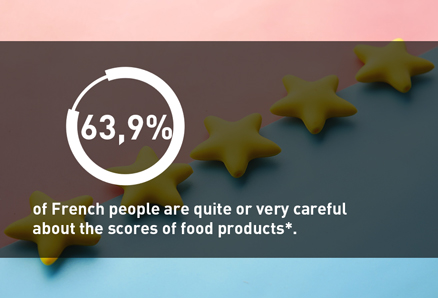 Ratings are currently becoming more and more widespread on food products, mainly on products from leading food producers sold in supermarkets. In Europe, the Nutri-Score is one of the most well-known ratings for consumers, allowing them to visually recognize the products with the best nutritional value.
But other scores are appearing too, such as product processing scores or environmental impact scores. These appear directly on the products or online via mobile applications.
In all cases, the rating has specific objectives:
To provide a simple visual tool for understanding
To allow consumers to form an informed opinion on one or more criteria
And therefore to help them make purchasing choices according to their tastes or convictions
* Appinio survey for LSA – 2022
This figure shows how much interest there is in the rating of products. Consumers are used to this kind of information and are on the lookout for scores that allow them to easily orient themselves towards the products that are best suited to their expectations.
But beyond the products sold in supermarkets, some specific products already regularly champion ratings based on their own criteria:
Wine
Cigars
Coffee
Oil, etc.

The scores awarded usually shed light on information that is "invisible" to customers and therefore difficult to take into account when making a purchase where it is not possible to test or taste for oneself. In this case, they provide
more transparency thanks to a rating based on precise criteria
an initial level of information to help the consumer with their purchasing decision, which can be confirmed by the specialized retailer's advice
Could you also use ratings for some of your products?
Here we'll give you a few tips on how to go about it.
Ratings—relevant whatever your business and products
While, as we have previously shown, a rating provides additional information about your products, it also highlights the diversity of your offering since, very often, you will have several products that are in the same range but that have their own subtleties. Whether you are a butcher, a baker, a cheesemaker, a grocer, a wine merchant, a tobacconist, or a fishmonger, giving a score using stars or a grade can be beneficial.
And the advantage of scores is that they can be adapted to many different uses and types of information:
Strength of taste
Customer opinion
Score received in a competition
Quality of the product
Acidity, tenderness, strength, intensity of flavor...
Here are some examples:
Butchers—add value to your meats
To make it easier for your customers to choose a meat, you can indicate two interesting criteria on your price tags:
Fattiness of the meat: Composed of 5 levels, ranging from 1 (very lean meat) to 5 (excessively fatty), this will give a quick idea of the quality of the meat and therefore its use in certain dishes.
Tenderness and softness: 1, 2, or 3 stars indicate the expected level of tenderness for cuts that are to be broiled or roasted, or the expected level of softness for cuts that are to be stewed.
Learn more about Edikio for butcher shops
Cheesemakers—inform your customers about the diversity of your cheeses
You sometimes offer several hundred cheese products in your store and it is not always easy for your customers to find their way around. Using ratings allows you to quickly put several selection criteria on your price tags:
Aromatic intensity: Bland, weak, medium, pronounced, strong, intense, powerful... There is a wide range of intensities among different cheeses, but it can also vary within the same product depending on how long it has been aged!
Texture: From a runny cheese to a very hard cheese, this is another aspect that you can indicate. Some customers have preferences for cheeses that are more or less mature.
Awards: Perhaps some of your cheeses have been presented at competitions or consumer tests? Why not indicate the score received if it adds value to your product?
Learn more about Edikio for cheese shops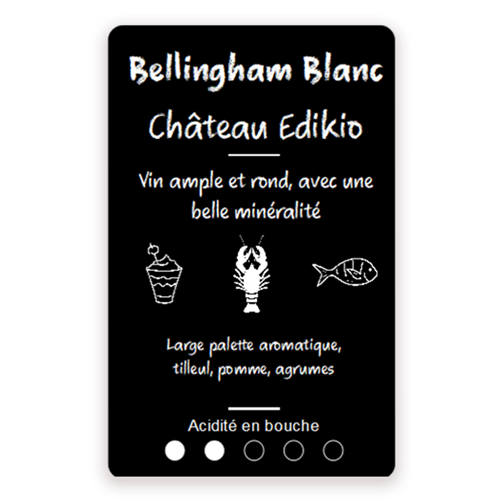 Wine merchants—highlight the different characteristics of your wines
Choosing a wine is sometimes not an easy task for novices. Rating your wines allows your customers to get an initial level of information in your cellar. You will then be able to direct them more easily with your buying advice. For example, you can indicate:
Tannin strength
Whether the wine is more or less fruity
Acidity on the palate
How long to store wines for laying down
Learn more about Edikio for wine cellars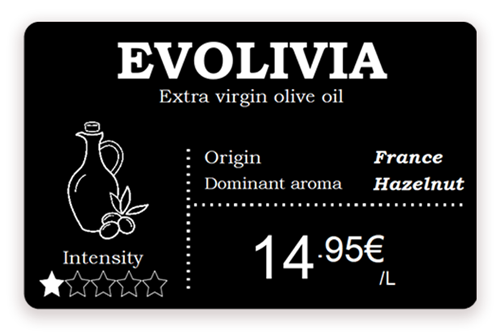 Grocers—promote the quality of your products and the know-how behind them
Your store generally offers a wide variety of products that are very different from each other. But what characterizes them all is that they are usually products of superior quality, sometimes rare. And to help your customers make an enlightened choice, the rating of certain products is almost essential.
For oils, a score can indicate the intensity of the fruitiness, bitterness, or pepperiness on the palate.
For coffee, you can indicate the intensity, or even choose to display certain criteria of the SCA (Specialty Coffee Association).
For chocolate, as for coffee, you can indicate the intensity, and also its texture, which may be more or less creamy or melting.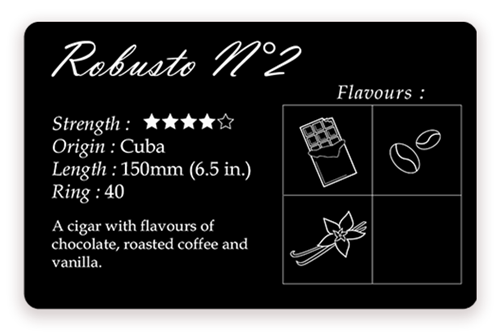 Tobacconists—display the rating of your cigars directly on your price tags
Cigars are among the products that are usually rated on the basis of several criteria that allow consumers to select their purchase as close in line as possible with their tastes. You can therefore display these scores directly on your price tags, notably thanks to the Edikio Price Tag software which integrates a rating tool in the form of stars or circles. For example, you can use the system of the magazine "Cigar Aficionado" with the following elements:
Appearance
Flavor
Smoking characteristics
Overall impression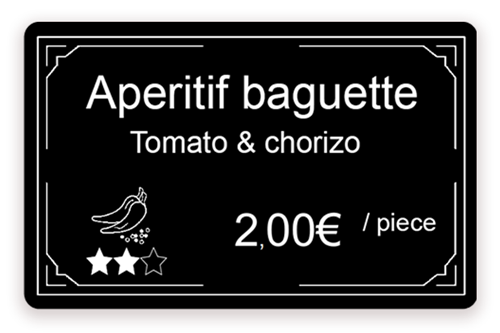 Bakers—make it easy for your customers to choose
The diversity of baked goods is often important and perhaps you regularly offer new products. Ratings allow you to indicate additional information on your products to help your customers make the right choice in store. For example, you can:
Note the strength of a flavor for a mild or very spicy chorizo aperitif baguette.
Indicate the acidity or sweetness of a pastry (lemon pie, strawberry cream cake, etc.)
Learn more about Edikio for bakeries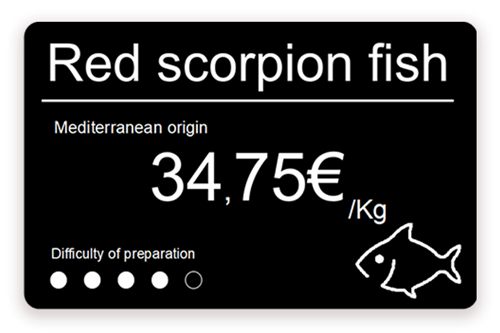 Fishmongers—provide additional information about your products
As with meats, you can provide ratings for some of the criteria your customers use to choose products that suit their tastes:
Oiliness: to indicate lean, semi-oily, or oily fish
Preparation difficulty: some fish will require more preparation before being eaten, which can also be a way to suggest to your customers to have them prepared by you for greater ease.
Strength of taste: a sardine or a salmon can be more powerful in taste than a hake or a pollack.
Learn more about Edikio for fish shop
A rating tool incorporated into the Edikio Price Tag software
To make your life easier, the Edikio Price Tag creation software offers a simple and intuitive scoring tool that lets you indicate a score directly on your price tags in a few clicks. In the form of stars or circles, you can choose the number to be displayed and then place the score optimally within the design of your card, alongside other essential information such as the price, the name of your product, and its description.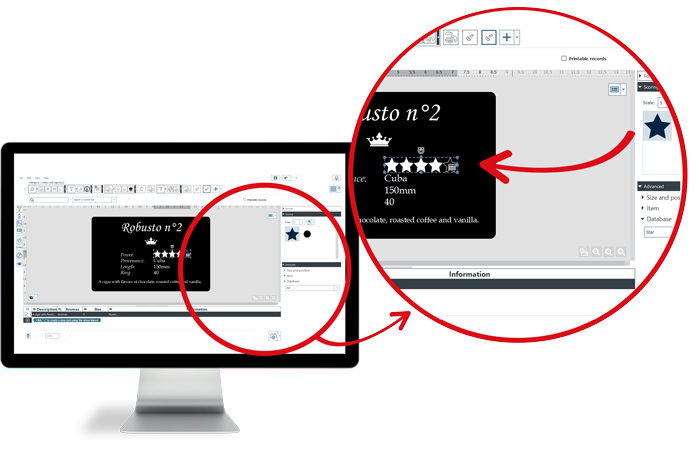 This software is included in the Edikio Price Tag all-in-one solutions.  Whatever your business, Edikio Price Tag offers 3 all-in-one solutions—Access, Flex, and Duplex—that are adapted for all your needs. Each one comprises:
A card printer
The Edikio Price Tag creation software, including card templates and a pictogram library for each profession
Your first consumables
Would you like to discover the Edikio Price Tag rating tool?
Download our free software for Windows
Download our free software for Mac