Butchers and Delicatessens: 5 Challenges for Meeting Consumer Expectations
The consumption trends around meat have changed a lot in the last few years. Several health crises linked to the sector have increased the mistrust of customers, who are looking for as much information as possible about the products they consume, whatever they are. The majority of Europeans still buy their meat in hypermarkets and supermarkets (58%), but 25% go to a butcher's shop, and this figure is rising. 
25% of Europeans buy their meat in butcher's shops and delis.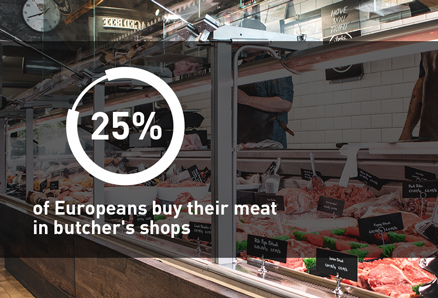 The important point is that, regardless of where they shop, consumers are increasingly looking for transparency about the products they buy. Alternatives to meat are also on the increase and may seem like a threat to your business. However, it is perhaps only a matter of adapting and riding the wave of new consumer expectations, so that meat can be perceived as an essential, even irreplaceable product.
Consumer habits and customer requirements: 5 major challenges
Consume less, consume better—an advantage for local businesses
A great trend of current consumption habits is to consume less, and to consume better. There is no longer the desire for low-cost products that enable you to buy more. Now customers want access to quality and are willing to pay for it as an exception, rather than on a regular basis.  But to do this, they have a real need for information about the products they buy, and are becoming labeling experts so they can check that the product in question meets their consumption criteria.
They therefore want easy access to information such as:
The origin of the meat they consume
According to a study conducted by the European Commission, 90% of Europeans want to know the origin of the meat they buy. This is of course not unrelated to the recent health crises.
But customers also want to favor products with low food miles: In France, 94% of consumers think it is important that their butcher or delicatessen buys from producers in their region.
Allergens in the products they buy
With the INCO Regulation in Europe, the FASTER Act in the United States, and Natasha's Law in the United Kingdom, transparency regarding allergens in products is a strong expectation of consumers, as well as an important constraint for you as a professional. You might as well simplify how they are displayed and consider putting them directly on your price tags for more ease!
Labels and awards
The labels and awards attributed to meats are a guarantee of quality for consumers. They provide reassurance about
the conditions of production or manufacture, as with the Label Rouge in France
origin, as with the AOC (Appellation d'origine contrôlée) or the AOP (Appellation d'origine protégée) in Europe
as well as about the commitment to excellence of certain producers and artisans through awards won at trade fairs or in consumer tests
Organic farming is also an important purchasing criterion. 41% of Europeans want to increase their purchase of organic meat in the coming years. More than just a trend, this is a real active choice when it comes to the environment.

Home-made
"Consuming better" also means that processed products are not industrial, but home-made.  94% of French people think it is important that their butcher and delicatessen offer "home-made" products, and the same is true in all European countries. A "home-made" product projects an image of better quality, because it is handmade and dependent on the know-how of the retailer. This is a real advantage for local businesses.
The 4 points mentioned above are an important source of information for consumers. They allow them to reassure themselves about what they will consume. It is therefore essential to make them easily available, or even to display them, in order to add value to your products, to promote their quality, and to be fully transparent about what you sell. An easy option for this is an all-in-one label. A solution like Edikio Price Tag has a software program adapted to your business allowing you to display allergens, labels, and all other important information directly on your price tags using pictograms or personalized text.
Flexitarianism, vegetarianism, and veganism: threats or opportunities?
The second challenge related to your trade is the choices consumers are making to reduce or completely stop consuming meat. In France, the average meat consumption per capita decreased (- 1.7%) from 86.0 kg per capita in 2019 to 84.5 kg per capita in 2020. The consumption of butcher's meat fell by 2.1%. These figures are in line with the specific context of the health crisis but also with the downward trend recorded over the last ten years: - 0.4% on average per year between 2010 and 2019.
But this is not a trend exclusive to France. The average American has reduced their beef consumption by 33% since 1970.
There are many reasons for this:
Health recommendations: the WHO, for example, has recommended that we reduce our meat consumption.
Environmental concerns: 66% of Europeans said they have reduced their meat consumption for ecological reasons.
Not to mention the fact that vegetarianism and veganism are becoming more and more widespread:
It is estimated that vegan meats will represent 25% of sales in 2040.
In the United Kingdom, nearly 16% of teenagers and young adults no longer eat meat.
So, is this a threat or an opportunity?
In France, Interbev, the National Interprofessional Association for Livestock and Meat, has taken the decision to use this as a communication opportunity and advocate flexitarianism. In this way, the profession is aligning with the consumer trend of eating less meat while communicating the fact that "being flexitarian means not having to go without anything" and therefore it is still possible to eat meat. A great way to market the butchery business in a roundabout way.
In the store, you should not hesitate to advise and reassure. What's more, if you have a delicatessen section, it might be advantageous to propose vegetarian or vegan alternatives to attract new customers.

Standing out and facing up to the competition
Although the figures are tending to decline, the number of butcher's shops, especially in Europe, remains significant. In Italy, there are nearly 30,000 businesses in this sector, while there are 24,000 in Spain, and 18,000 in France. Not to mention the high market share of super/hypermarkets for meat purchases.
Regardless of the size of your business, you will need to:
Maintain your relationship with your regular customers
Build loyalty among occasional or opportunistic customers
Attract new customers
As mentioned above, you have several angles of attack for this relating to each of the challenges presented in this article:
Showcase your know-how by clearly indicating your home-made products and awards, or by having a glazed area overlooking your laboratory...
Give your meats added value by labeling them in a professional and harmonious way, providing your customers with all the information they need.
Highlight all the other products on offer in your store in order to emphasize the diversity of what you sell.
Finally, add value for your clientele by setting up a loyalty card system to be stamped when making purchases.
Esthetics—the importance of visual impact for consumers
Although they may sometimes seem to be of secondary importance compared to your products, the esthetics of your store should not be neglected. Did you know, for example, that improving the attractiveness of a point of sale during a renovation is an important factor in increasing its turnover? The visual impact of your store window accounts for 30 to 40% of your sales. Simply because you are visually attracting customers who might not have stopped by otherwise.
In addition, at a butcher's shop:
The attractiveness and prominence of the products is the 3rd most important trigger for customers to buy.
46% of consumers only make up their mind once they are in the store.
The attractiveness and prominence of the products is the 3rd most important trigger for customers to buy.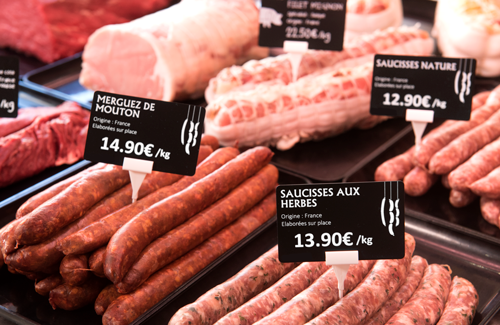 It is therefore important not to miss these sales opportunities!
For this to happen:
your customer's buying journey must be clear and convenient,
information must be readable and detailed,
and the esthetics must be considered and professional.
A simple way to meet these objectives is to use labeling that meets your needs and the expectations of your customers. With all-in-one solutions like Edikio Price Tag that are designed for your profession, you can achieve an esthetically pleasing and professional display. And also have labels that are easy to clean and that present all the necessary information to your customers on the front, and to your staff on the back.
New purchasing habits—the rise of click & collect
The last challenge is the evolution of online shopping habits. It is now estimated that nearly 70% of consumers will shop for groceries online by 2025. The health crisis of 2020 has only strengthened this habit, since 1 in 2 French people already do their food shopping online.
This digitalization of shopping may seem far removed from local butchers and delicatessens. Yet other figures tend to show that implementing a click & collect service can be advantageous even for small businesses:
At the end of 2020, 85% of French people believed that it would be in the interest of retailers to strengthen their click & collect services.
And 40% of customers who pick up orders say they have purchased other products once there. This proves that this service is not incompatible with in-store customer relations.
So what are the real benefits of a click & collect service for a butcher or delicatessen?
You appeal to customers in a hurry who wish to plan their purchases in advance by making them from home or from work during their lunch break.
You attract and retain new customers but also add value for your regulars with a new service.
You also increase the average spend of your customers (+20% increase compared to an in-person purchase), and you supplement this with "last minute" purchases in store.
Finally, you still keep the in-person contact with the customer, since they have to come and pick up their order in any case. They just save the time they would have spent choosing their main purchases!
Use case: Gicquel butcher's and delicatessen
Gicquel butcher's and delicatessen had aging labels that were bringing down the esthetics of its store and therefore hindering sales. As it was also offering pre-prepared meals and needed to comply with the INCO Regulation, the owner chose to replace the labels in his store so that he could meet the expectations of his customers in terms of image and readability.
He chose the all-in-one Edikio Price Tag Access solution to create and print the 150 price tags for their products.
He was convinced by:
The ease of use of the Edikio Price Tag solution
The professional look of its new price tags
The intuitive software that allows all allergens to be displayed directly on the labels
"With the Edikio Access solution, the font is always the same and the graphics for illustrating the products and allergens are attractive and clear."