Appearances have always "brie"-n important in the world of cheese, so you've "gouda" stand out!
Get yourself noticed with a brilliant presentation of your products
Although very important, the quality of your cheeses alone is not the only element that attracts the attention of your customers. You also need to create a visual impact at your point of sale. While online shopping is becoming more and more popular, there is still a steady stream of people wanting to experience the store. There is nothing like a dynamic and eye-catching presentation of your products to arouse curiosity and offer a unique moment when they do come to the store. So get off the beaten track and dare to be different—that's where your strength lies! But how can you make your store more attractive? Thanks to Edikio, you can take charge of this—we offer you several solutions.
With the Edikio Price Tag solution, you get only the best of the best!
Enhance your cheese display in several steps

Step 1: Pay attention to quality
It can't be repeated too often: the choice of your products and their quality is essential for a successful in-store experience. Although everyone's tastes are different and you won't be able to satisfy every palate, it is important to focus on good, strong products that will bring real added value to your display.
Step 2: It's all about the right labelling!
Clear signage is an important selling tool, especially for customers who are unfamiliar with the different varieties you offer. And if they need guidance, that's where the display tags come in. If you need to indicate the name, the type of cheese, or any other information about the origin of your products, you should implement a labeling solution. With Edikio Price Tag, it doesn't have to be complicated to create your own tags! The tags are:
100% customizable with our easy to use software
printable immediately
easy to clean
simple to replace
As well as creating a harmonious look to your display, our tag solution lets you to print all types of plastic cards according to your various requirements:
Price tags
Signage cards
HGripper (accessory for connecting 2 tags)
3TAG cards
Long cards
Loyalty cards, gift cards
Accessories are also very important to the aesthetics of your display and can enhance your various products. Whether plastic or metal, clip-on or free-standing—you can choose the style and size that best suit your needs. In addition to the various types of plastic cards, you can also print on paper to create your loyalty cards, for example, and increase your offering.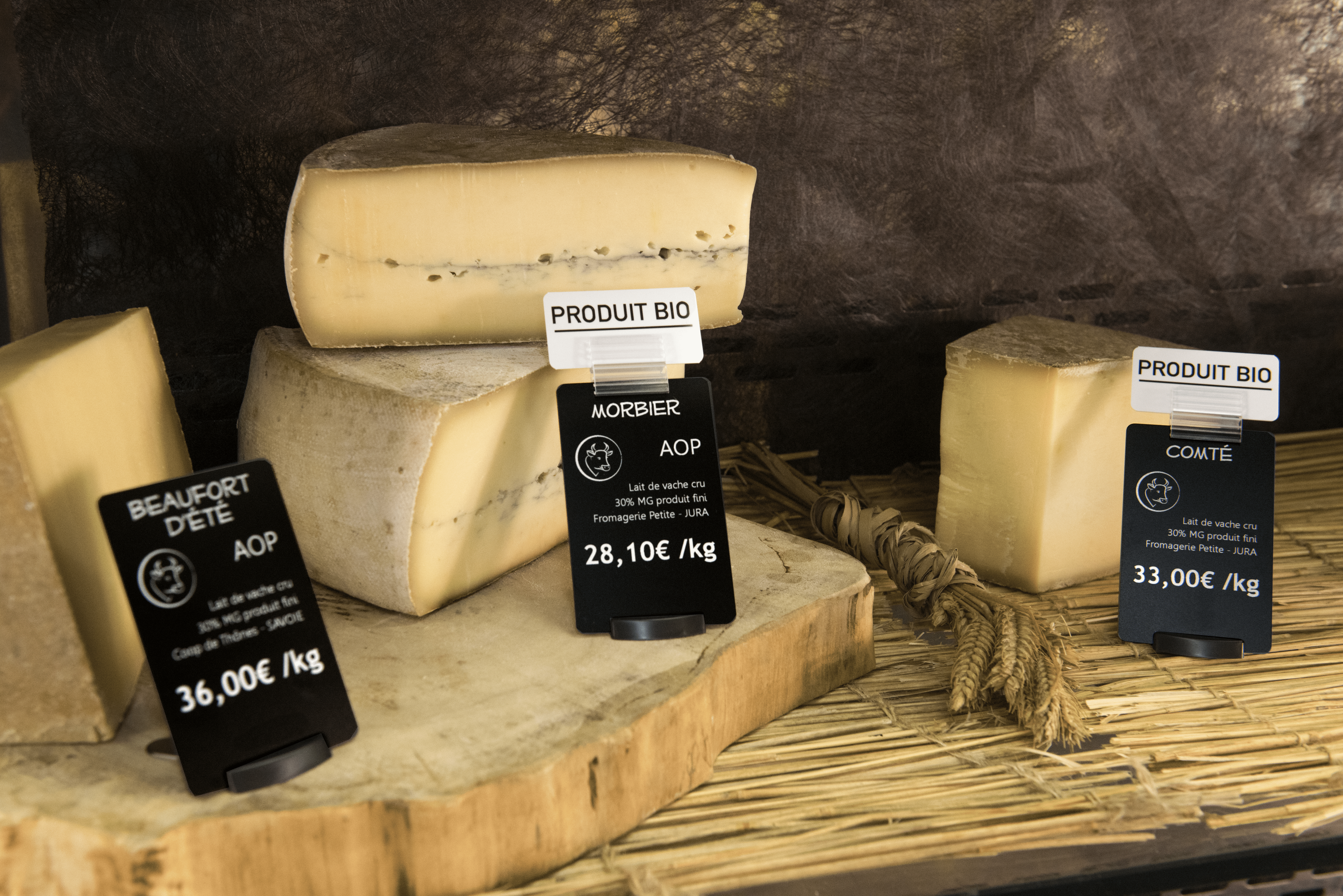 Step 3: Dare to be different!
Do you have a taste for adventure? Be creative and try to be original. This can help you to stand out from other cheesemongers, while still remaining true to your image and traditions.
Add color to your display: It can be difficult for customers to look at your display if all the different color cheeses are mixed up. Try one shelf with white cheeses and another with more colorful cheeses, and create different looks.
Decorate your spaces: Decoration may seem trivial but it brings a touch of life to your stall. Arrange a large loaf of country bread on a tablecloth. Place a wicker basket in one corner, a sheaf of hay in another. Try out different setups—customers may be won over by this imaginary return to the countryside.
With Edikio Price Tag, you hold all the cards.