5 challenges for the modern bakery: stand out from your competitors!
Responding to the growing competition
While culturally, the activity of baking is more highly developed in some countries, it is nevertheless booming in many regions of the world. The appeal and consumption of baked goods is steadily increasing in line with the increased interest in buying locally, from local merchants. 
As bakers you are faced with increasingly stiff competition. In France it would be (almost) possible to claim that every neighborhood has at least one baker. The increase in the number of bread outlets is all the more noticeable because of the growing number of bakery -based store concepts. Today, bakeries can be traditional, belong to chains or franchises, be sold via networks of bakery outlets, or be upgraded to industrial bakeries.  
Considering your competitors and understanding what they offer to allow you to stand out to your customers is therefore essential.
5 challenges for the modern bakery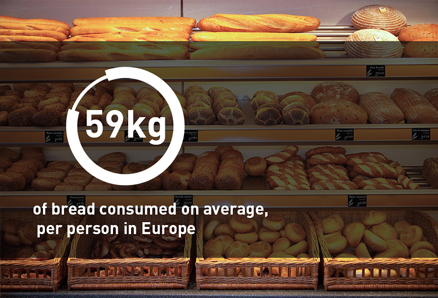 Offer a varied and dynamic range of products
On average, a European will consume 59 kg of bread per year. This figure has been trending downward for several years. However, it also gives way to new consumption habits. While the traditional function of a bakery is the sale of bread, the diversity of the products offered in your store has certainly evolved along with the buying habits of your customers.
We don't all eat the same bread, but the demand is certainly there!
Pastries, chocolates, snacks, confectionery... are all products to be sold that encourage your customers to make purchases other than their daily bread. They also allow you to stand out and so your first challenge will be to make sure that you renew yourself.
| | |
| --- | --- |
| | Take time to rethink what you are offering, as a restaurant owner would do with his menu. You have a commercial activity that is highly seasonal and linked to holidays and seasons. But your customers also typically consume in very different ways throughout their week (between the working week and the weekend) and even in the course of the same day (pastries in the morning, sandwiches at lunch, snacks in the afternoon, nibbles in the evening etc.).  Developing what you offer around these time periods allows you to increase sales opportunities |
| | Surprise your customers with fresh, new, and revisited products. Be innovative in your tastes and shapes. This can also be a way of highlighting your business expertise. What if a product doesn't work right? Then test another one that may become the next signature product of your bakery! |
| | Make your customers aware of your products by using labeling that will highlight your offerings and new products. You can ensure their visibility by means of distinctive labeling that will make people want to test and therefore buy the products  . For example, you can opt for colorful card label designs that will stand out from the rest of your labeling. Or you can simply affix a pictogram or the words "new", "promotion", or "product of the month" alongside the product concerned.  |
Quality products and more transparency
As we have mentioned, the return to "traditional", "home-made", and "artisanal" products is more than just a consumer trend. Here is a second major challenge: offering products that are of high quality and original, but also based on the knowledge that they are transparent in terms of traceability, and healthier than industrial products. More and more consumers are becoming weary of the monotony of standardized products coming from large-scale distribution.
73% of consumers feel drawn to products with authentic recipes or production methods
An international study conducted in 40 countries showed that 72% of customers prefer bakeries that allow them to see the baker's oven or kitchen. Moreover, 73% of consumers feel drawn to products with authentic recipes or production methods. Your customers need to know you and your products! Give them the perfect opportunity to be persuaded by your products and your manufacturing methods. 
Want an original idea to share with your customers? Create labeling displaying the ingredients of one of your products or the perfect food and bread combination to guide your customers in making their purchases. 
 

Health and diet

While product quality plays an important role, consumers' awareness of the benefits of maintaining a healthy diet is growing. These are at the heart of your customers' concerns and represent your 3rd challenge. Take advantage of this and meet expectations:
Have you tried gluten-free breads for people with gluten intolerance?
Have you tried making "lighter" treats by reducing the amount of sugar in some recipes for people with diabetes or those just being careful?
Furthermore, the issue surrounding allergens is important since in many countries it is mandatory to indicate them for the sake of your customers' safety. Did you know that certain labeling solutions allow you to comply with the regulations in force and to enter all of this information directly on your price tags in a clear and professional manner? A solution from Edikio provides a price tag creation software that includes a tool to display allergens in text and/or pictograms, as well as a library of images for all your other declarations associated with organic/gluten/homemade food...
New distribution networks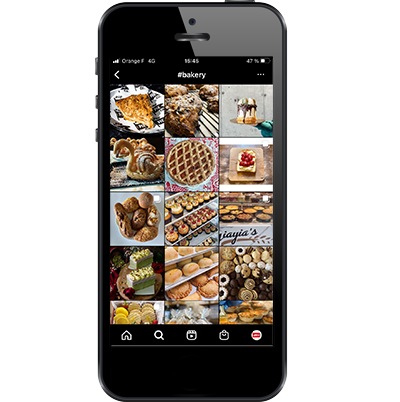 Consumption patterns have been changing in recent times. However, the bakery remains a local business to which customers are happy to return. To stay ahead, the development of new distribution networks is essential so as to differentiate yourself, hold on to your regular customers, and attract new ones.
Presence on social networks,
Click & Collect, 
Deliveries
Perhaps you benefited from the health crisis to develop and test some of these services. Now you must make them your own to maximize their impact on your turnover. Esthetics  are very important in baking. Esthetics also convey the image of a carefully managed business, as well as the quality of the product, its production and the artisan's expertise. The brand image and the attractiveness of your products are aspects that you can easily enhance online, on social networks using beautiful photos. Make the most of it, it will allow you to engage with customers or to promote yourself in a different way.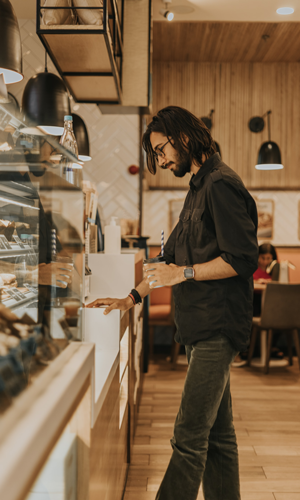 Improve the customer experience
Today's customers no longer want to be considered as mere passive consumers. When they enter your bakery, they are looking for an experience, a new product, or simply a good time. The last challenge associated with your industry will therefore be to optimize what your customers experience at your point of sale.
More and more bakeries and pastry shops are getting equipped to offer their customers these additional services that customers like so much:
a comfortable tea room to taste the baking specialties on the premises;
a range of hot drinks and squeezed juices; 
free Wi-Fi access; 
This way, you turn your bakery into a real meeting place. It encourages your customer to come (back) to your establishment, to feel at home, to stay, and to spend more or more regularly. You can also create the atmosphere that suits you and offer a unique experience:
Make your brand image stand out with a layout and furniture that reflects your image,
Offer the right product for your customers and their needs and consumption habits
Ensure the visibility of your products by opting for a professional and harmonious display across your products and services. Add features such as your logo, a particular typography...
Use case: The "Le Grenier à Pain" French bakery chain
Founded in 1997 by Michel Galloyer, Le Grenier à Pain has more than thirty stores in France and abroad. Since 2015, the chain has incorporated the Edikio all-in-one solution into several of its bakeries to create and print price tags directly at the point of sale.

Now their labeling:

Ensures a consistent customer experience in all the brand's points of sale
Highlights the products offered by each bakery with personalized and harmonious labels
Saves a lot of time for the bakery staff thanks to the speed and simplicity of implementation.