PLA/WOOD Card: Choose a sustainable alternative
The PLA/WOOD Card: A sustainable alternative to PVC
With their natural wood look, PLA/WOOD cards offer similar benefits to conventional PVC cards.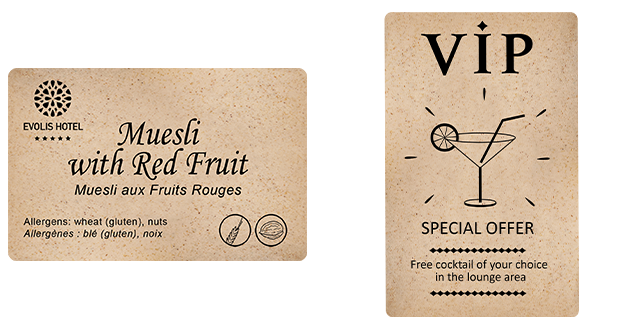 Hotel and restaurant owners: PLA/WOOD cards are easy to clean, durable, and are also resistant to cold and humidity. With a monochrome black look and professional quality, they can easily match the presentation of your buffet or your high-end products and services.
In particular, we recommend PLA/WOOD cards for:

Retailers: PLA/WOOD cards are a strong and durable medium for the attractive presentation of products in your store. The black monochrome printing offers you a high quality and consistent result for:
Price tags for your packaged products
Presentation labels for your items
Your business cards
Choose a reduced environmental impact
The environmental impact of a PLA/WOOD card is 42% lower than that of a PVC card*. They are made of biosourced materials, partly recycled: 
Polylactic acid (PLA) is a sustainable plastic substitute made from renewable biosourced resources such as corn or sugarcane; it is not derived from petroleum and is non-toxic.

Wood fiber is a coproduct of the industrial processing of PEFC certified wood from sustainably managed forests.

* Data from a life cycle analysis performed on several types of cards with the support of the CODDE department of LCIE Bureau Veritas and in accordance with ISO standards 14040 and 14044.
Compatibility of PLA/WOOD cards
PLA/WOOD cards (Ref. C7001) with standard CR80 dimensions (0.76 mm thick) are compatible with:
They can be printed with the "BLACK RMS" black monochrome ribbon** (Ref. RCT095NAA for Access and RCT094NAA for Flex) and are also compatible with Edikio accessories.
Download the PLA/WOOD card data sheet
Edikio: an alternative range to make you stand out
The launch of the PLA/WOOD card is part of a global Edikio brand campaign to meet the growing needs of professionals seeking to reduce the environmental impact of their activities.  These cards round out the alternative Edikio range, which already includes paper cards compatible with the Edikio Access*, Flex, and Duplex solutions.
Depending on your needs and uses, these two alternatives to PVC allow you to create personalized and professional labels and cards using Edikio Guest and Edikio Price Tag.
Learn more about the Edikio alternative range
*From serial number 10001152726. You can find the serial number on the underside of your Access. You will find a label and the indication S/N, which corresponds to the serial number of your printer: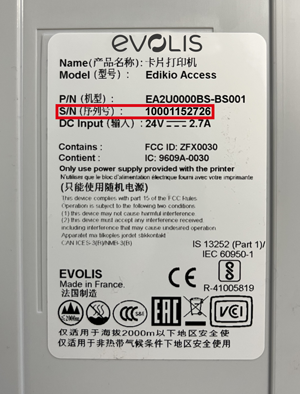 ** A firmware and driver update is required to use the BLACK RMS ribbon.