The perfect solutions for personalizing your room access card designs
A high-impact marketing tool
Lend your services extra visibility by printing personalized information directly on your room access cards. Invite clients to reflect on offers they haven't yet tried.
Strengthen your brand image
Give your room access cards a personalized graphic twist. These slick, professional cards mirror your brand identity and graphic charter.
Maximum flexibility
Even if a guest makes a last-minute booking or loses their access card, you can personalize a room access card direct from your office in less than 15 seconds. Add temporary messages to promote your events. This solution gives you complete flexibility and control.
Fantastic formats
Clients use their room access card throughout the duration of their stay, making it the perfect place to promote your offers and boost visibility.
Room access cards

containing useful details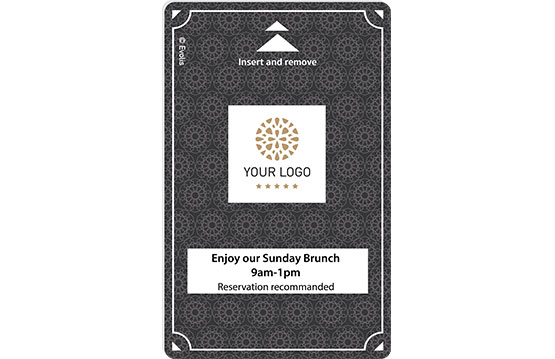 Watch the Edikio Guest video
Hotels owners and managers! Increase service visibility thanks to the Edikio Guest solution by personalizing your room access card designs. You can also design and print your own plastic buffet labels, as well as a huge variety of different cards and badges customized to mirror your establishment.
They adopted
our solutions
Create all the other types of
customized cards and badges
As well as buffet display labels, create every other type of card and badge you might need.
See return on your investment in record time thanks to Edikio Guest solutions.
Event cards
Promotional and gift cards
VIP cards
Service access cards
Price tags for your stores
Baggage tags
Employee badges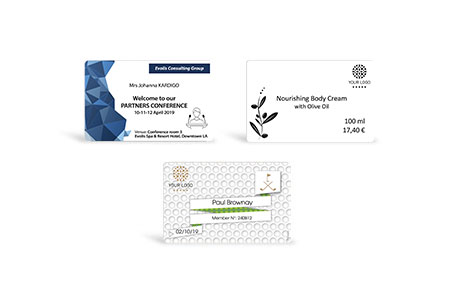 O