The back of your price tags: a secret weapon?
The surface available on the back of your price labels is ideally suited to displaying information for your sales staff. By providing them with relevant data, businesses can considerably increase their turnover.
A more effective and professional sales team
Mentioning the main indications on the back of the price tags, such as the product name, the price or even the PLU code, saves time for employees and accelerates their product knowledge. With this optimized labeling, new employees can give customers relevant information and therefore close sales, right from their first day at work.
Clear guidance for consumers
Customers often have doubts about how to prepare a fresh product, making them hesitant to buy it. By displaying recommendations for preparing or cooking products on the back of the price tags, sales staff can reassure customers and alleviate any concerns they have about their purchase.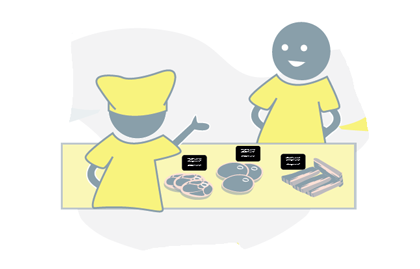 Easier product identification
The indications provided on the back of price tags can be a mine of information for sales staff, who can then guide customers towards products that are:
more profitable: indicate the level of margin on your products, for example with a symbol, to increase your revenue
more affordable: identify special offers on the back of the labels and offer them to customers, particularly those with a limited budget, to optimize your sales
at their sell-by date: get rid of unsold stock by adding the date of production on the back of your price tags.
You will then get more out of your price tags, adapting your supply to the demand of your customers and maximizing profitability.
Get a closer look at the Duplex Solution
The all-in-one Edikio Duplex solution allows price tags to be printed on plastic cards that are automatically double-sided. The intuitive solution includes professional software for managing product and pricing information, which allows you to issue attractive, customized labels in just a few clicks. The consumables are also included (black plastic cards and white print ribbon) for immediate implementation.
Take advantage of the many benefits of Edikio Duplex, optimize your labeling and improve your efficiency!