What Do Price Tags and POPs Have in Common?
When it comes to grabbing your customer's attention and highlighting your in-store merchandise, price tags and POPs are two of the most effective ways to do this.
From supermarkets and delicatessens to bakeries and supply stores, there are many examples of how visually attractive designs and engaging marketing slogans can be used to entice your shoppers into buying certain products. But what are the similarities between these two popular marketing materials?
The Role of Price Tags and POPs
Price tags play a vital role in marketing products directly to your customers. As well as informing them about the actual price, the way price tags and POPs are designed and presented has a huge impact on how the product is perceived.
While price tags typically have simple features, making adjustments to the text, colour and layout of a tag can significantly alter the way a brand is portrayed to potential buyers.
Equally, a POP can also greatly influence the way buyers perceive certain products and brands. An abbreviation of Point-of-Purchase displays, these POPs are a way of adding promotional value within the store, highlighting a product's benefits and encouraging passing shoppers to pay closer attention.
POPs can range in their complexity from basic signage to elaborate 3D installations, but all types generally encourage buyers to consider the various benefits of owning the product using a method that goes beyond mundane product descriptions or generic catchphrases.
3 Major Promotional Benefits of Price Tags and POPs

Capture Attention with Colour
Capturing customers' attention with colour is an old trick, but an effective one. Both price tags and POPs give shop owners and manufacturers a platform for drawing in the gaze of wandering shoppers with colours and patterns that standout.
Ultimately, product descriptions and branding is useless if no one is paying attention, so both these marketing materials offer an important way to create that all-important initial connection with customers.
 Often, this can be achieved with simple colour combinations such as white text on a black background, while colour pallets that are too loud or flashy should be avoided as they might actually discourage buyers and make it harder to read important information.
Make the Right Impression with Font Choices
Well-crafted typography has the power to make a strong impression on your customers, instill emotion and reinforce your brand message. While there is certainly some flexibility with price tags in terms of font choices, POPs offer the greatest amount of freedom when it comes to delivering unique impressions with handwritten font styles.
Employing engaging font options is a great way to cut through the noise of formulaic fonts that consumers are used to seeing every day. From legibility to charm, successful stores understand the power of font!
Browse our price tag solutions with unique fonts styles
Powerfully delivered marketing slogans
One carefully chosen catchphrase or marketing slogan can change the fate of a product forever. And there's no denying the fact that these tools are important for any type of product or brand.
There are several ways you can utilize catchphrases for your POPs and price tags. A classic approach is emphasising the low price of a particular item, however, this is something that everybody does. To make an impact, focus on the reasons for the low price, giving shoppers more context to inform their decision. For example, you might be offering buyers a temporary promotional price "For a limited time only" or the item may be part of a seasonal sale – this is information you should be highlighting.
Showing potential buyers that a certain brand comes well-reviewed by customers (or even better… celebrities) is a great way to seize customer attention as they're wandering through the aisles of your store.
While you might be tempted to use phrases such as "Manager's choice!", this is quite obviously a recommendation from the store, which is easy to dismiss by customers. Using a third party review approach such as "Voted No.1 By Customers" or "As Seen on Screen", will draw from the credibility of the general public or celebrities and make sure certain items are given the focus they deserve.
Proven Ways to Improve Your POPs and Price Tags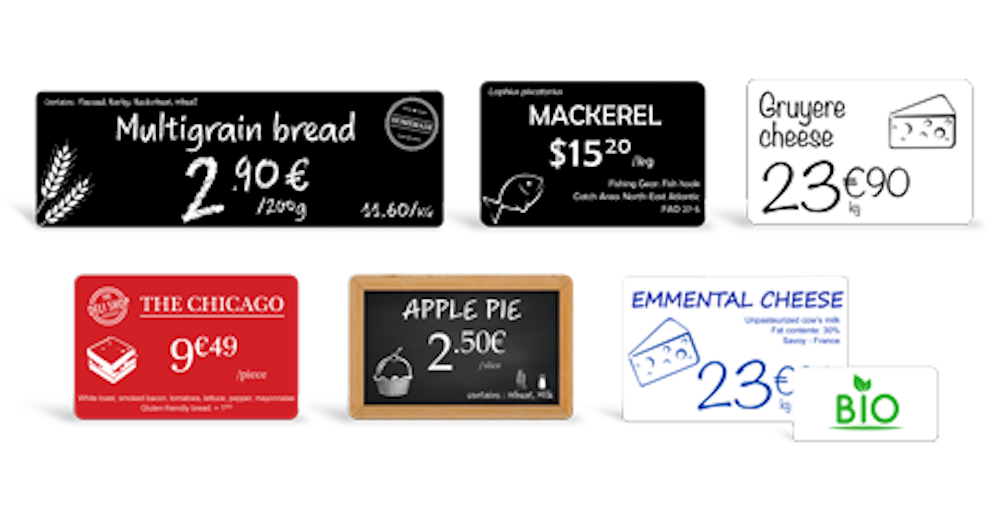 Create stylish elegance
To create price tags and POPs that are stylish, elegant and match your brand's personality, it's best to use a dedicated price printer. This method will ensure consistency across all of your promotional display materials and deliver the same level of charm and sophistication that you desire, time and again.
As seasons change and your branding choices adapt to customer behavior, having your own printing equipment will also allow you to customise your designs when you need to. And perhaps most importantly, your own printer will also help you to reduce your overall costs by introducing greater efficiency into your production process, helping you save valuable time and resources.
Use design templates
Creating new price tags and POPs from scratch every time your shop embarks on a new sales campaign can be a lengthy process. Instead, it's recommended to use a design template when creating your in-store marketing material so that you can ensure they are consistent with both the product's branding and the store's overall image.
Many great design templates for price tags can easily be found online, but make sure you factor in the time needed to laminate each tag if you are choosing this promotional method.
Charm Your Customers with the Perfect Price Tags and POPs for Your Store
As we've discussed, price tags and POPs share many benefits when it comes to offering promotional support to the various items in your store.
In addition to optimizing the kind of messages conveyed to your customers as they browse certain items, they are a great way to improve your store's overall atmosphere with lively and engaging displays that cater to customer preferences.
An undeniable benefit of these marketing tools is also their ability to create stronger connections between your team and customers. Whether it's prompting buyers to ask for more information in person or giving your staff a more efficient way of communicating added value to shoppers, tags and POPs are a great way to get the conversation started.
So if you're looking to boost your customers' in-store experience and encourage them to engage with (and ultimately buy!) certain products, finding the right price tag and POP design consistency might be the next crucial step to growing your business.