Tired of laminating your Price Cards? How to Improve Laminating Efficiency
For shop or business owners, the task of laminating is ever-present. When the product pricing is updated, when the a previously laminated price card begins peeling back on the corners—it's truly a task that just never ends. We all get tired of the inefficiency and monotonous work of relaminating.
Today, let's talk about the problems with traditional laminating, and some advice on how to improve the laminating process.
Why is lamination so inefficient?
Trimming and Cutting: the Post-lamination Time Drain
When laminating, cutting and trimming easily takes up the most time. For most businesses, the process looks like this:
Warm up the laminator
Laminate the prints one by one
Cutting and Trimming to size
Maybe once a year we could handle this kind of work, but when we run a busy store and the work becomes weekly (if not daily), a considerable amount of time (and staff cost!) is lost.
Based on our experience and feedback from shop owners, the time taken to cut and trim is about three times longer than even the laminating process itself.
Reducing this time will bring you one step closer to improved efficiency.
Re-lamination
In supermarket and plant shops, due to higher humidity and moisture, the laminate can start peeling back quite quickly. One of the worst cases are laminated price cards found in frozen sections. Water droplets from the edges weaken the adhesive strength of the laminate sheets, causing the laminate to peel away.
The truth is, laminate edges peel back from a variety of other reasons as well—constant handling by staff, even sunlight and heat can weaken the product.
Employees who persist with this never-ending task of laminating need a better solution—something that will allow them to spend more time tending to customers and the shop in general.
For shop owners who often have re-lamination needs, we recommend considering a process that doesn't require lamination in the first place.
Look here for laminating alternatives
De-lamination Issues and the Perceived Quality of your Brand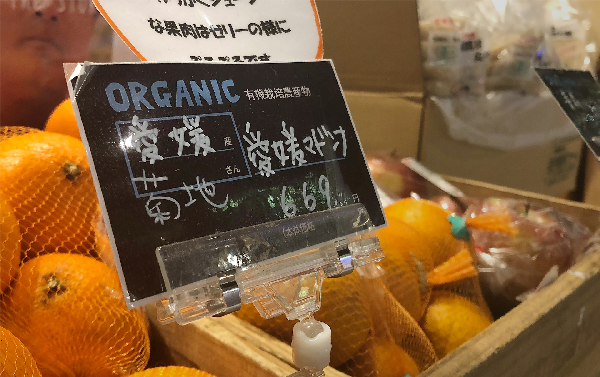 Are customers critical of your brand when they find delaminated price cards?
As a high quality business, of course you do your best to keep up with peeling cards. However, other pressing issues like maintaining stock, handling the financials, dealing with customers, etc. can steal your time away. This means that you work hard to maintain the quality, but the number one most visually present component of your shop—your price tags and price cards—are left untended. In a single shop visit, every single customer make shopping decisions based on the information of those price cards. In other words, each customer is seeing hundreds of your price cards with every visit. Having peeling, unprofessional-looking cards, undermines all the work you and your staff make to try to create the ideal product and customer service environment.
Laminated Price Cards are Not Washable: Another Major Demerit to Lamination
When selling fresh foods such as fruit, vegetables, meats, etc. it's common to have your price card immediately next to the product. Dirt in between the peeled layers, discoloring of the film, even small black spots (mold!) will immediately communicate a lack of sanitation. Believe it or not, we've heard of customers stating that a dirty price card in the proximity of fresh or raw food is a major red flag for them. As modern consumers become more and more concerned with sanitation and cleanliness, this is a crucial point.
This would be one thing if we could wash our price cards. However, when our price cards are laminated, this is not an option without worsening the peeling, getting the laminated paper wet (and getting ink bleed), etc. The only option is to re-laminate.
Improving on the Lamination Process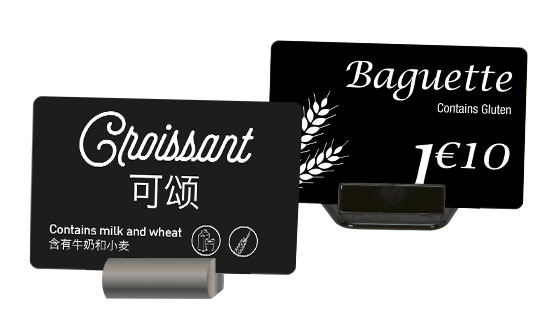 Premium Tip: Print to Plastic (Not Paper!)
The conundrum of every shop keeper is figuring out how to better laminate paper-printed price tags. However, isn't this the equivalent of taking pain killers when you have a headache (as opposed to resolving the source of the headache itself)? The whole reason we laminate is because we want our paper printed pricetags to last longer and look more professional. Lamination is not the problem. Paper is the problem!
If you want to reduce the "time" of laminating work and prioritize the "quality" of product card signs and price cards, we recommend a price card printer on plastic.
The most capable price card printers can print high-quality and luxurious PVC cards within 10 seconds—without the need for lamination or cutting thereafter. PVC price cards are resistant to low temperatures and moisture; and are also highly water-resistant and durable. They can be cleaned with absolutely no residue and then reused. The cards are also hygienic, making them ideal for food applications.
Tackle your laminating work intelligently!
Lamination is necessary to improve the appeal of a paper price tag, but the time spent on it can be used effectively for other purposes and you may be able to improve the productivity of your store or business. If you are worried about lamination, change your methods and take advantage of a new, more predictable and profitable work process!