Enhance your brand image
Why not use your price tags to enhance your brand image?
It goes without saying that your customers will look at your price tags. So why not use them to boost your brand image?
Customers are increasingly conscious of the appearance of the stores they visit. Product labeling is one tool you can use to establish and promote the visual identity of your boutique or store.
Choose a high-quality medium
Your price tags have to meet various criteria, including:
A format adapted to the size and layout of your products. For example, large tags can hide your products and small tags can make it difficult for customers to read the information displayed on them.
A solid medium: the price tags must be strong enough to withstand frequent handling without getting creased or torn.
A matte finish: the lighting in stores or shopping aisles can sometimes make it hard for your customers to read price tags. Choose a matte material with a glossy medium such as laminated paper.
Moisture resistant: water is the enemy of paper price tags. The impermeability of some materials, such as PVC, will ensure that the tags used in areas where there is moisture, e.g. fishmongers and cheese counters, won't deteriorate.
A smooth and flat surface: as well as water resistant, your tags must also be easy to clean so you can reduce your daily work. To ensure quick and easy maintenance, avoid price tags with gaps, perforations, or other irregularities.
Clear presentation: the tags must be easily and harmoniously arranged on your shelves using appropriate holders. So it's important to find the right price tag/holder combination.
To boost your brand image, your price tags have to match the quality of your store and products.
Ensure tag readability
Customers must be able to read all the information displayed on the tags quickly and with ease:
Adapt the content to your medium: price tags come in different shapes and sizes (round, oval, rectangular, or more imaginative). Choose the model you like and make sure you'll be able to include all the information your customers need in a readable way.
Choose printing information over handwriting it: go for solutions that let you can print both text and image directly onto the tags.
Handwriting has several disadvantages:

you always need to rely on someone whose handwriting is even, attractive, and readable,
ink can smudge and chalk can rub off.

Printing your tags directly ensures:

a high-quality and consistent result,
a wide range of fonts online or included in the software used for producing price tags.

Think carefully about the tag layout:

ensure sufficient space for the information displayed,
think about the size of the text: your customers must be able to read your tags from your counter (sometimes 1 to 2 meters away).
The prettiest price tag in the world won't help your brand image if it can't be read!
Stand out from the crowd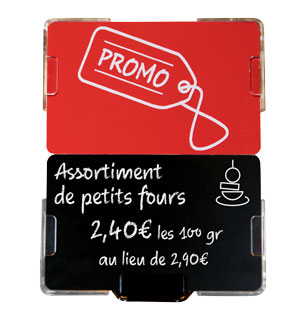 To generate interest among your customers and stand out from your competitors, you have to innovate and reveal your creativity!
Customize your price tags:

put your logo on your price tags and turn them into something unique,
add illustrations and decorative elements to highlight promotions and new items, but be careful not to overload your tags.

Choose a style that's consistent with your visual identity:

The style of your tags must comply with your graphic charter: consistency is key when it comes to promoting your brand image.
By choosing a flexible solution for price tag printing, you'll be able to add the features that you want to your price tags: modern with graphics and contemporary fonts, traditional slate board style with chalk writing on a black medium – anything is possible!
Create attractive price tags by applying your graphic charter: that's the winning combination!
Harmonize your price tags
To reinforce the professional appearance of your counters, harmonize your labeling between your different products or departments. To further enhance your brand image, go further by harmonizing:
your store signage,
your promotional materials (posters, flyers, business cards),
your price tags,
and any other channel of communication for your store.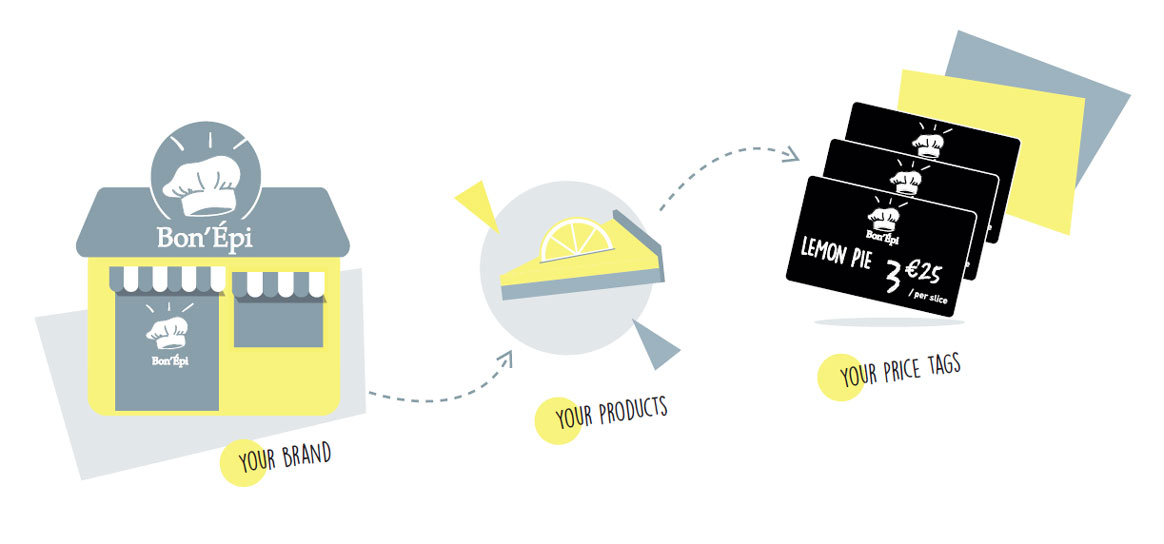 Zoom onto Edikio Solutions
To reinforce the professional appearance of your counters, harmonize your labeling between your different products or departments. To further enhance your brand image, go further by harmonizing
professional software that allows you to

manage product information and prices
format your price tags thanks to a multitude of pictograms for all your needs, as well as an exclusive chalkboard font

a card printer
consumables (black PVC cards and white printer ribbons)
Edikio solutions let you create customized and attractive tags in just a few clicks.
Don't delay! Discover all the benefits of Edikio solutions and enhance your store's brand image!