Use your Edikio printer to customize other cards!

Do you want to print employee badges, gift cards, or loyalty cards with your Edikio printer?
Print from different kinds of software
While Edikio printers let you print all kinds of cards and badges (employee badges, loyalty cards, gift cards, etc.), the Edikio software has been designed specifically for printing price tags. For this reason, it has not been optimized for printing other types of cards. The Edikio Flex and Edikio Duplex solutions give you the option to print in color on white cards (in credit card format – CR80). You can easily print badges from the software you normally use because Edikio printers operate like standard office printers.
You simply need to adapt the print format to the price tag format. You can then print from:
Microsoft™ Word,
Microsoft™ PowerPoint
or graphic editing software such as Adobe® Photoshop
Evolis Badge Studio®: the software designed for printing badges
The Evolis Badge Studio® software has been specially designed for the creation and printing of all types of badges. Freely available to those with an Edikio solution, it means you can easily add photos, barcodes, and texts to your badges before printing.
Evolis Badge Studio® is supplied with a number of badge templates that you can easily modify and adapt to your branding.
Download Evolis Badge Studio for free
Tools to help you create your cards and badges: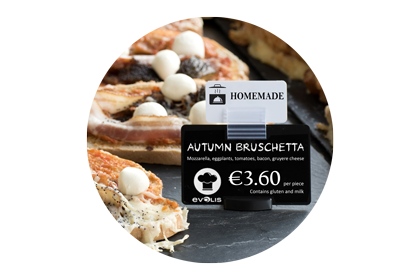 Print on snap-off cards with Evolis Badge Studio®
* 86 mm x 54 mm 3TAG cards, divisible into 3 cards of 28 mm x 54 mm