How to Increase Supermarket Sales with Price Tags and POPs?
For supermarkets throughout the country, there are certain times when foot traffic is higher than others.Whether it's because of the holiday season or promotional periods, this is the perfect time to maximise sales for items you are hoping to clear.
While the chance of clearing your stock is greater at these times, so too are the opportunities available to every other merchant out there, so don't get left behind by waiting too long to implement the necessary changes.
To help you fine-tune your sales floor and provide promotional strategies for practical use of the busy season, we've outlined some time-proven tactics for using price tags and POPs.
Explore our supermarket price tags solutions
Improve the Customer Journey With Effective Sales Promotion Strategies
Adapt Your Store's Layout to Enhance the Customer Experience
Why is it that the first thing you see when you enter a supermarket is vegetables? You may not have registered this trend before, but it is in fact a common sales strategy among most supermarkets. The truth is, when fresh produce is displayed prominently near the front entrance, sales go up significantly.
The reason for this is that there's nothing quite like vegetables to represent freshness and seasonality. As well as using bright natural colors to set the tone and put people in a positive mood with complimentary price tags and POPs, vegetables also bring the season to centre stage, influencing how people make immediate purchasing decisions as they browse through the aisles of a store.
Carefully considering how you capture customers' attention with appealing price tags and POPs in combination with smart store layouts and seasonality considerations will play a crucial role in improving the customer flow and selling more items during your peak selling seasons.
Encourage Spontaneous Purchases by Placing Essential Shopping Items at the Back
To draw customers deeper into your store and increase the likelihood of them being tempted by your appealing price tags and POPs along the way, place essential shopping items at the back. Whether this is meat, fish, eggs, milk or other core purchases, turn a quick trip into a casual browse by making customers pass through other aisles along the way to these popular items.
 
If your customers arrive at their intended product too quickly, they're likely to go straight to the register without having a chance to browse your other products. As the goal of many regular supermarket customers is to promptly purchase meat or fish to serve as part of their evening meal, these products should always be placed at the back. Other shop types can adapt this principle based on their most popular items.
 
To maximise this strategy's potential, make sure you display appealing price tags and POPs along the way to catch your customers' attention with carefully tailored catchphrases and appealing color combinations.
 
It may also be a good idea to create POPs or flyers for each specific season or sales period. For example, advertising at the entrance of your store: "Meat and fish discounts on offer for a limited time only" is an effective way to encourage new customers to visit, subjecting them to your store's promotional layout strategy.
Finally, create even more synergy between your layout and customers by placing complementary vegetables and side dishes beside your core items, generating increased sales.
Choose Promotional Messages That Encourage Impulse Purchases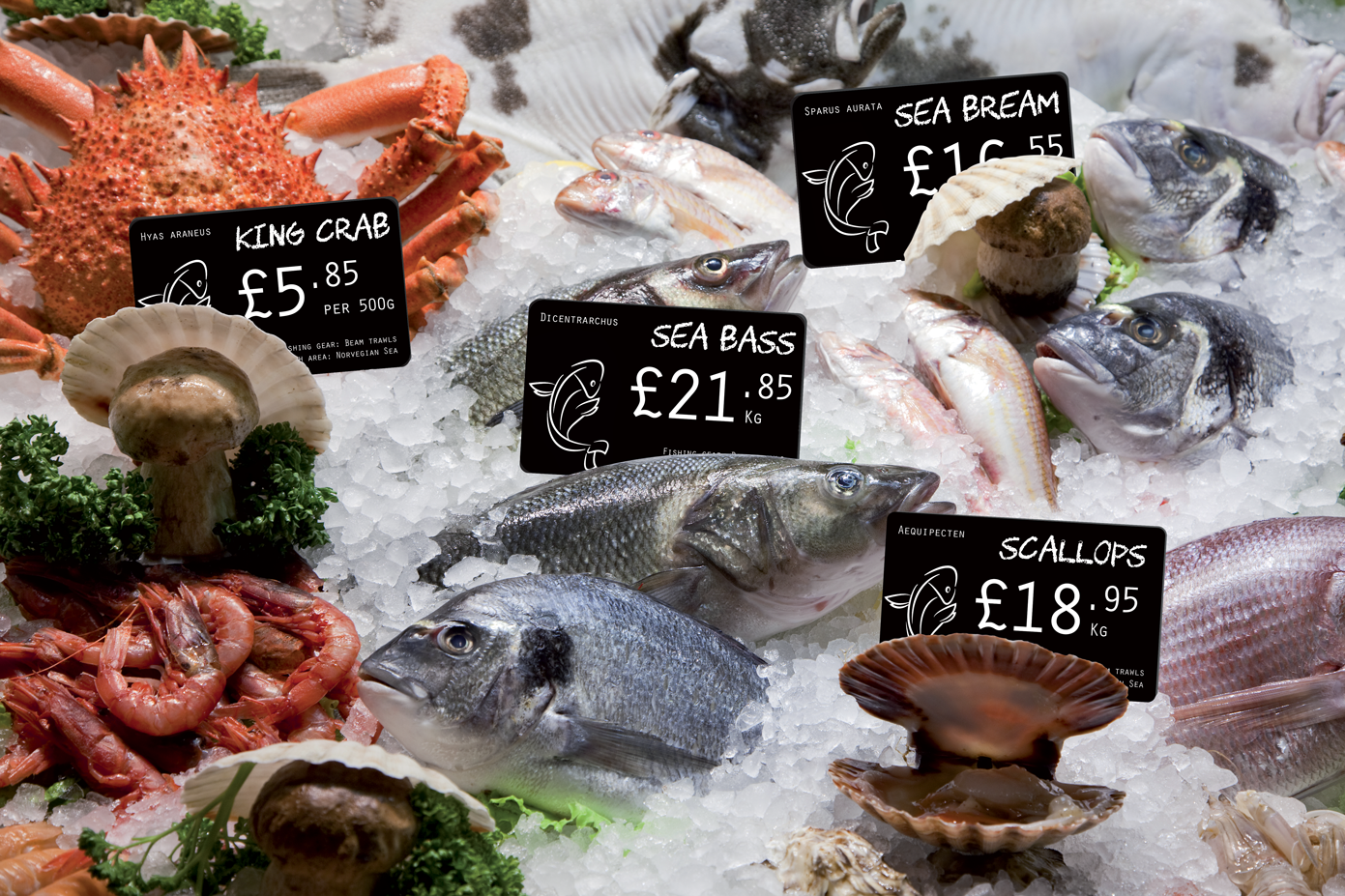 Use Effective Price Tag and POP Sequencing to Improve the Appeal of Your Products
Creating a template that uses effective sequencing of key messages with your price tags and POPs can significantly boost purchases for specific items. Many supermarkets only list the product name and price in their price tags and POPs, but this is missing an important opportunity to increase the appeal of your items.
 
To maximise the attractiveness of your products, consider ways you can differentiate your items from those in your competitors' stores. Aside from being able to claim that you are the sole supplier or seller of a particular product with a much envied: "Available here only!", there are many other factors you can highlight to show customers that your store offers better products than others.
 
An effective way to sequence your price tags and POPs is:
An effective catch phrase  or sales point
Product name
Price
It has been proven that changing price tags and POPs in this way can increase the average customer purchase by 20%.
Emphasize the Most Appealing Product Aspects to Your Customers
The stock in any given supermarket or grocery store consists of various items that have recently arrived or have just been made with fresh ingredients that day. Whether it is fresh fish and meat or items from your delicatessen counter, all these products have added appeal for customers.
This may just be an everyday reality for a store, but highlighting specific benefits dramatically increases the appeal of the product to customers. For example, a POP that displays: "Freshly delivered today" can have a big impact on a customer's purchasing behaviour.
 
The fresh and new aspect of a product can be enough to excite a customer into thinking "I can only get this right now!", making the decision to purchase the item subconsciously. This is especially the case with perishable items and things like meat and fish which are best enjoyed fresh. If you are trying to recommend salmon for example, phrases that include "Today only" or "Freshly shipped from (insert location)" will emphasise the added benefit to customers.
You can also try highlighting that Salmon is "Super rich in omega-3" and "Highly recommended with roasted vegetables". This can add an additional point of value for the customer who may think "I'll grill some salmon tonight!". Pinpointing a product's appeal and tapping into the customer's point of view when creating your price tags and POPs can massively increase your chance of sales.
Best Practices for Supermarket Sales Promotions

Use Colors and Fonts to Invoke the Spirit of the Season or Sales Period With Your Price Tags and Pop
By carefully designing your price tags and POPs using certain colors and fonts, you can create a positive atmosphere in your store that connects your products with the season or specific sales period. This synergy is great for inspiring customers to feel excited and purchase items they believe will contribute to their enjoyment at this time of the year.
 
For example, using a printer that allows you to customize font and color to match the popular and recognisable design traits of the season will encourage your shoppers to experience a "Seasonal Feeling".
 
Red is also known as the "buying color" so the impact of the color choice is multiplied during this period. By paying attention to the finer details such as background colors and font designs on your price tags and POPs, you can increase the appeal of your products to the supermarket's customers.
Understand the Way Your Customers Shop to Create Better Supermarket Promotion Strategies
Getting to know your customers and what they are looking for during specific periods and events is a proven way to adapt and optimise your sales floor to increase sales. As well as catering to the needs of your customers; clear, direct and complementary price tags and POPs can help highlight the most appealing aspects of your products. This method is especially effective during busy seasons, due to the increased volume of purchasing that takes place. However, these principles also work for other times of the year as well.
Remember that emphasising certain attributes of products that might seem commonplace from a store's point of view, can actually add significant appeal and desire for customers. Combined with an overall understanding of how events and situations can impact the way people shop, you should be well placed to craft supermarket promotional strategies that help you connect with your customers and reel them in for a purchase.