What's new in the latest version of Edikio Price Tag software?
Edikio Price Tag software has been redesigned to meet all your retail price tag creation needs. It now benefits from:
a simplified user interface
new functionalities to be quicker and easier to use.
Of course your current database of articles and tag layouts are still compatible with this new version. Please refer to the section "How to update your software"
Simplified interface

 

Simplified actions

 

Simplified tools

All-in-one view
Product categories
Tag holder footprint

All-in-one installation
1-step creation wizard
Backup & restore

Easy search toolbar
New price tool
Graphical import wizard
Watch the video to discover the 1st steps with this new software version:
As a recommended procedure for the installation of all new software in general, thanks to follow carefully the 2 following steps:
    1- Save your data
    With Edikio Price Tag software 1.1.6 or older versions.
       • Go to: File > Export Edikio Layouts/Items list
       • Tick the items you want to export and click on "Export"
       • Your layouts and database records will be saved in a .zip file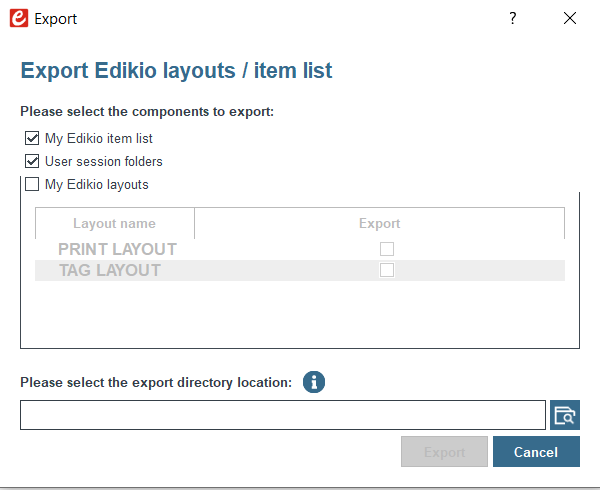 2- Install your new software
    Install Edikio Price Tag software2.0 version:
       • Launch the executable file and follow the steps of the wizard.
     NB: Once the installation done, if you do not see your database, please perform a restore with your 2.0 Price Tag version that is newly installed:
       • Go to File>Restore to retrieve the database records contained in the .zip file previously saved in section "1-Save your data".
       • If the problem persists, please contact your reseller.