The perfect solutions for creating promotional and gift cards
Highlight your services
Invite guests to explore services they may not yet have used, or services you want to highlight. Your cards display all the information your clients need to easily get to grips with what you offer, improving their satisfaction levels as a result.
Strengthen your brand image
Help clients take advantage of your services by showcasing them on plastic cards. Treat clients to personalized services at appealing rates and strengthen your company image.
Maximum flexibility
Whatever your services, create and print your own cards from the comfort of your desk. In less than 15 seconds, make your own promotional or gift cards tailored to your clients' preferences and habits.
Fantastic formats
Displayed in shared spaces or directly in bedrooms, plastic advantage cards let you promote your offers and boost sales.
Gift cards

that contain all useful details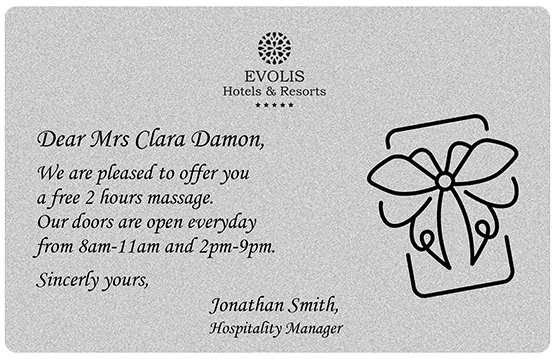 Watch the Edikio Guest video
Calling all hotel and restaurant owners... Design and print your own gift and promotional cards to add to the range of services you offer. The new Edikio Guest solution is a way of making your buffets feel that extra little bit more special, while showcasing the dishes you offer thanks to premium, elegant display labels.
They adopted
our solutions
Create
all other types of cards and badges
Thanks to Edikio Guest solutions, print your personalized badges and labels in a matter of clicks. See return on your investment in record time while improving the customer experience.
Events cards
VIP cards
Room access cards
Service access cards
Price tags for your stores
Baggage tags
Staff badges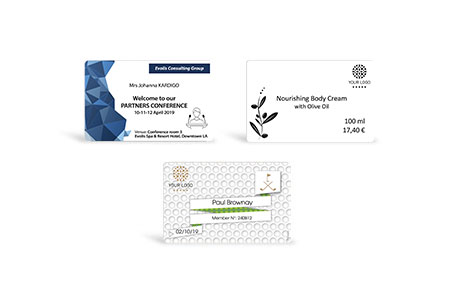 O