Client : Grand Hotel Riverpark de Bratislava
The five-star hotel has enhanced the presentation of its event buffets using Edikio Guest, a solution adapted to the needs of luxury hotel chains.
The challenge: To present event buffets in a way that would meet the standards of the Marriott Group
Part of the Marriott Group's prestigious 'The Luxury Collection', the five-star Grand Hotel River Park in Bratislava must meet the highest standards in order to satisfy its clientele.
With over 1,000 products across all its buffets, labeling had become a real issue for its staff:
The old chalkboard food labels no longer met the standards of the Marriott Group.
Renewal was a long and tedious task because the labels had to be rewritten by hand each week.
The information provided to customers was incomplete, as only 200 products were labeled out of the 1,000 on offer.
The implementation of a program designed to improve the presentation of buffets throughout the Marriott Group therefore encouraged M. Dandar, the hotel's Deputy Director in charge of Food & Beverages, to consider Edikio Guest all-in-one solutions.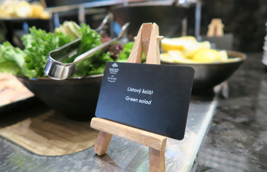 The solution: Edikio Guest, an all-in-one concept tailored to the needs of luxury hotel professionals
Instant printing
Labels personalized to reflect the hotel's image
High-quality, long-lasting equipment
Easy-to-use software
These arguments, among others, were enough to convince M. Dandar to choose an Edikio Guest Flex solution. The hotel staff quickly got to grips with the printer and its design software to create new buffet labels on plastic cards.
The labels offer a professional finish that is in keeping with the high-end events hosted by the five-star hotel. The system has also enabled the Grand Hotel River Park in Bratislava to meet the standards expected by the Marriott Group.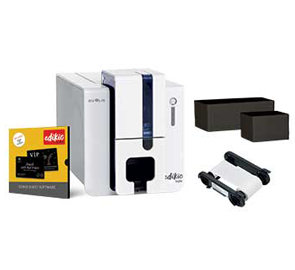 The result: A standardized, professional presentation across the hotel's entire buffet range
After changing the presentation of the hotel's coffee break and snack buffets, the introduction of the new labels created and printed with Edikio Guest was quickly extended to all event buffets and breakfasts. Regular customers immediately noticed the new labeling and appreciated the clearer, more comprehensive information being provided about the products on offer.
The use of Edikio Guest at the Grand Hotel River Park in Bratislava has resulted in:
Nearly 1,000 labels generated for buffets in peak months
200 new labels printed every month for new seasonal products
Information translated into English and Slovak
The incorporation of hotel and Marriott Group branding (fonts, logos, etc.)
The display of allergens via pictograms provided by the Edikio Guest software
The identification of vegetarian products using the green cards proposed as part of the Edikio consumables range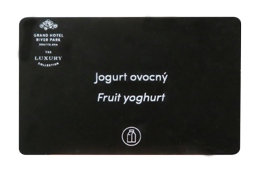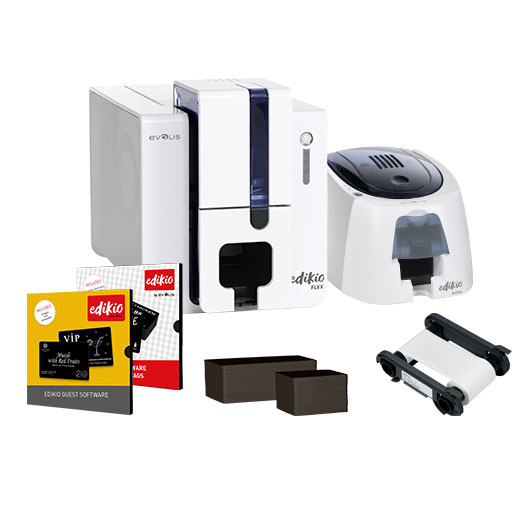 Our
all-in-one

labeling solutions

Edikio offers two ranges of all-in-one solutions to let you design and print attractive labels quickly and easily while cutting costs, all from the comfort of your store or establishment:
-    Price tags with our Price Tag solutions aimed at stores
-    Display labels with our Edikio Guest solutions aimed at hotels and restaurants

Our packs include:
A printer: single-sided our double-sided printing on standard-size or long-size cards
Plastic card design and print software
A printer ribbon and PVC cards designed especially for the food trade*
O
Discover other testimonies
O