The perfect solution for personalizing your event badges
Professional services
Give your services that extra professional feel by offering organizers several types of plastic cards to optimize their events: Invitations, participant badges, souvenir cards, table cards and buffet labels.
Clear, comprehensive information
Make it easier for organizers to identify their event participants by creating personalized badges containing all the information they need: Organizing company logo, participant name, practical details, location, etc.
Maximum flexibility
Whether professional (seminars, conferences, etc.) or private (weddings, birthdays, etc.), enjoy total freedom to print your own cards directly from the comfort of your own office. In less than 15 seconds, create badges for last-minute participants or replace lost badges.
Fantastic formats
Plastic cards are a sturdy, handy format, ensuring your event badges look pristine from start to finish.
Event cards

that contain all useful details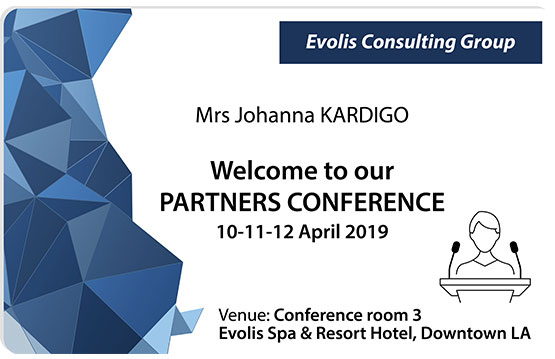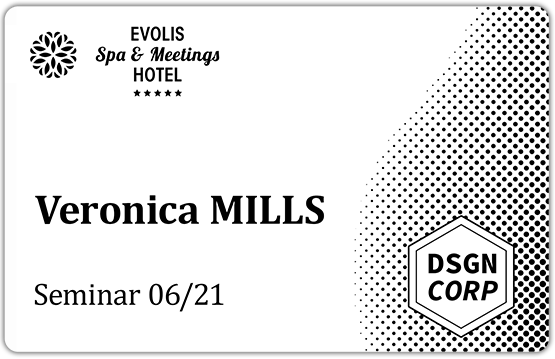 Watch the Edikio Guest solution video
Calling all hotel managers and event organizers! Expand your range of services by printing your own participant access badges, table cards and buffet labels on plastic cards. Edikio Guest solutions let you provide clients with all the information they need on handy personalized cards.
They adopted
our solutions
Create
all your other types of cards and badges
Thanks to Edikio Guest solutions, print your personalized badges and cards in a matter of clicks. See return on your investment in record time.
Promotional and gift cards
VIP cards
Room access cards
Service access cards
Price tags for your stores
Baggage tags
Staff badges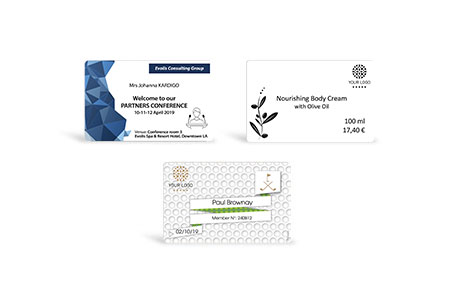 O