Client : Brighten Floriculture
50 new price tags created each months within minutes
Challenge: Standardize and improve the look of price tags
Brighten Floriculture was founded in 1979. Today, the company has stores in many Chinese cities and owns the largest gardening and flower store in Hong Kong. Previously, the flower shop had printed price tags on paper, laminated them and then inserted them into acrylic holders. With the increase of products, all the disadvantages of laminated tags became obvious to Brighten brand manager Lian Guochen:
Laminated tags deteriorate quickly. The employees had to water and ridge the plants every day which damped the tags and unglued the laminates.

The handwriting of different employees gave a fluctuating look to the price tags, which affected the image of the store.

The cost/quality ratio of price tags was not optimal. After determining the number of price tags that had to be changed or renewed monthly, the store manager found that the cost of plastic tags and the time necessary to produce them did not make this solution profitable.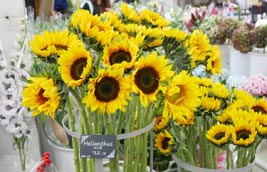 Solution: Edikio Price Tag Access best met the florist's needs
After comparing many price tag systems in the market, Lian Guochen found that the Edikio Price Tag solution provided by EVOLIS best met the requirements of a flower shop:
The price tags are good looking and the accessories are in line with the style of the flower shop;
Plastic tags are waterproof, easy to clean and are long-lasting;
The all-in-one efficient solution is cost-effective and the design and printing of the tags is convenient and efficient.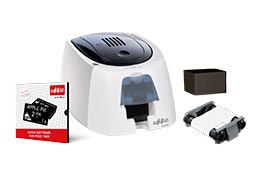 Result: 50 new price tags created each month within minutes
Today, Brighten uses the Edikio Price Tag Access solution including the card design software. White graphics and text are printed on black cards which complement the colors of the flowers. The unified style of the price tag now conveys the elegant brand identity of Brighten.
About 50 new price tags are printed every month for new and current products.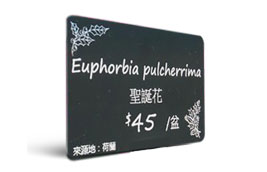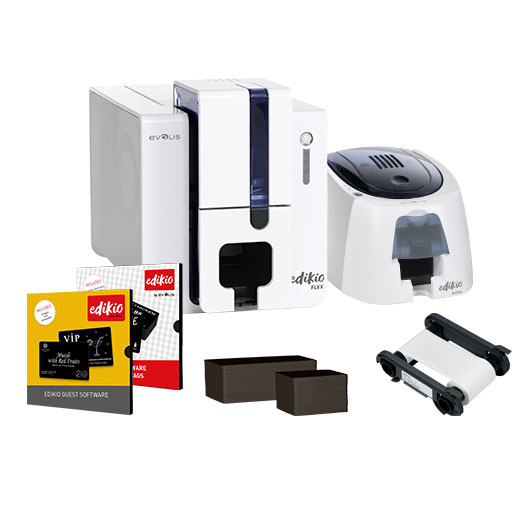 Our
all-in-one

labeling solutions

Edikio offers two ranges of all-in-one solutions to let you design and print attractive labels quickly and easily while cutting costs, all from the comfort of your store or establishment:
-    Price tags with our Price Tag solutions aimed at stores
-    Display labels with our Edikio Guest solutions aimed at hotels and restaurants

Our packs include:
A printer: single-sided our double-sided printing on standard-size or long-size cards
Plastic card design and print software
A printer ribbon and PVC cards designed especially for the food trade*
O
Discover other testimonies
O